Pressure is defined as force per unit area that a fluid exerts on its surroundings.[1] For example, pressure, P, is a function of force, F, and area, A.

P = F/A

A container full of gas contains innumerable atoms and molecules that are constantly bouncing of its walls. The pressure would be the average force of these atoms and molecules on its walls per unit of area of the container. Moreover, pressure does not have to be measured along the wall of a container but rather can be measured as the force per unit area along any plane. Air pressure, for example, is a function of the weight of the air pushing down on Earth. Thus, as the altitude increases, pressure decreases. Similarly, as a scuba diver or submarine dives deeper into the ocean, the pressure increases.

The SI unit for pressure is the Pascal (N/m2), but other common units of pressure include pounds per square inch (PSI), atmospheres (atm), bars, inches of mercury (in Hg), and millimeters of mercury (mm Hg).

A pressure measurement can be described as either static or dynamic. The pressure in cases where no motion is occurring is referred to as static pressure. Examples of static pressure include the pressure of the air inside a balloon or water inside a basin. Often times, the motion of a fluid changes the force applied to its surroundings. Such a pressure measurement is known as dynamic pressure measurement. For example, the pressure inside a balloon or at the bottom of a water basin would change as air is let out of the balloon or as water is poured out of the basin.

Head pressure(or pressure head) measures the static pressure of a liquid in a tank or a pipe. Head pressure, P, is a function solely on the height of the liquid, h, and weight density, w, of the liquid being measured as shown in Figure 1 below.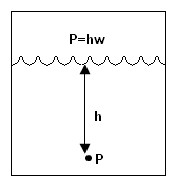 Figure 1. Head Pressure Measurement

The pressure on a scuba diver swimming in the ocean would be the diver's depth multiplied by the weight of the ocean (64 pounds per cubic foot). A scuba diver diving 33 feet into the ocean would have 2112 pounds of water on every square foot of his body. That translates to 14.7 PSI. Interestingly enough, the atmospheric pressure of the air at sea level is also 14.7 PSI or 1 atm. Thus, 33 feet of water create as much pressure as 5 miles of air! The total pressure on a scuba diver 33 feet deep ocean would be the combined pressure caused by the weight of the air and the water, that would be 29.4 PSI or 2 atm.

A pressure measurement can further be described by the type of measurement being performed. There are three types of pressure measurements: absolute, gauge, and differential. Absolute pressure measurement is measured relative to a vacuum (Figure 2). Often times, the abbreviations PAA (Pascals Absolute) or PSIA (Pounds per Square Inch Absolute) are used to describe absolute pressure.

Figure 2. Absolute Pressure Sensor [3]

Gauge pressure is measured relative to ambient atmospheric pressure (Figure 3). Similar to absolute pressure, the abbreviations PAG (Pascals Gauge) or PSIG (Pounds per Square Inch Gauge) are used to describe gauge pressure.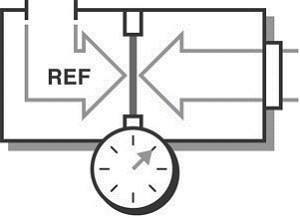 Figure 3. Gauge Pressure Sensor [3]


Differential pressure is similar to gauge pressure, but instead of measuring relative to ambient atmospheric pressure, differential measurements are taken with respect to a specific reference pressure (Figure 4). Also, the abbreviations PAD (Pascals Differential) or PSID (Pounds per Square Inch Differential) are used to describe differential pressure.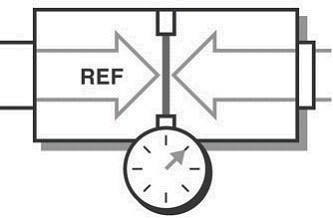 Figure 4. Differential Pressure Sensor
[3]