This section explains how discontinuous transmission and LBT category 4 have been implemented.
Discontinuous Transmission
Discontinuous transmission is a major change in the entire LTE scheduling scheme. In the LTE application framework, this functionality can be implemented via leveraging the OFDM-symbol-wise resource block allocation capabilities and the embedded TX trigger mechanisms. Both are explained in the following.
The resource block allocation can be defined for each single OFDM symbol within a radio frame. This allocation is done on the host in two steps:
One radio frame on a per sub-frame-basis as shown in Figure 6 and
Per sub-frame on a PRB and per OFDM-symbol-basis as shown in Figure 7.
This approach gives enough flexibility to support configurable maximum transmit operation time for LAA and configurable cycle time, puncturing and master cycle for LTE-U.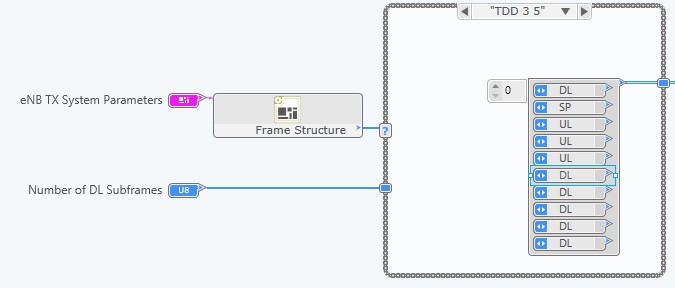 Figure 6: Radio frame definition on a per sub-frame-basis
Figure 7: Sub-frame definition on a PRB and per OFDM-symbol-basis
The LTE application framework already has a wide range of capabilities to trigger transmissions. These are re-used and extended towards the needs of discontinuous transmission. Two changes are incorporated:
The functionality to trigger the transmission has been extended as shown in Figure 8 from a radio frame-based trigger like what is needed for traditional LTE and LTE-U to add the ability to transmit on a trigger from LBT functionality that has sensed the channel and assessed it as idle and ready for transmission.
Instead of transmitting for a full radio frame, additional functionality has been added to allow transmission for a configurable number TXOP of sub-frames as shown in Figure 9. Based on this additional parameter TXOP, several counters are controlled in the bit processing as well I/Q base-band processing to transmit only TXOP consecutive sub-frames instead of an entire radio frame. Appropriate changes have been done on the UE RX side as well as shown in Figure 10.
Figure 8: Select either radioframe-based trigger or LBT-based trigger

Figure 9: Modifications on DL transmitter towards discontinuous transmission with TXOP sub-frames
Figure 10: Modifications on DL receiver towards discontinuous transmission with TXOP sub-frames
Listen-Before-Talk Category 4
Figure 11 shows the configuration capabilities of the provided LBT Cat 4 implementation. If "Fixed Backoff" is disabled, the random backoff procedure is applied. As the current version does not yet contain HARQ feedback, the backoff is always picked from the interval [0, CWmax-1]. Furthermore, the energy detection threshold can be configured.
Figure 11: LBT Cat 4 configuration capabilities
The LBT Cat 4 top level module consists of a state machine and the power measurement unit from the NI 802.11 application framework as shown in Figure 12. The purpose of this state machine is to, based on the LBT Cat 4 procedure, control the power measurement unit to do clear channel assessment and to trigger the discontinuous transmission at the appropriate time. The state machine given in Figure 13 follows the LBT procedure given in Figure 3.
The current version of the code does not implement 802.11 preamble detection for LAA LBT, but the NI 802.11 application framework has the necessary blocks and can be used to extend the feature set to include preamble detection.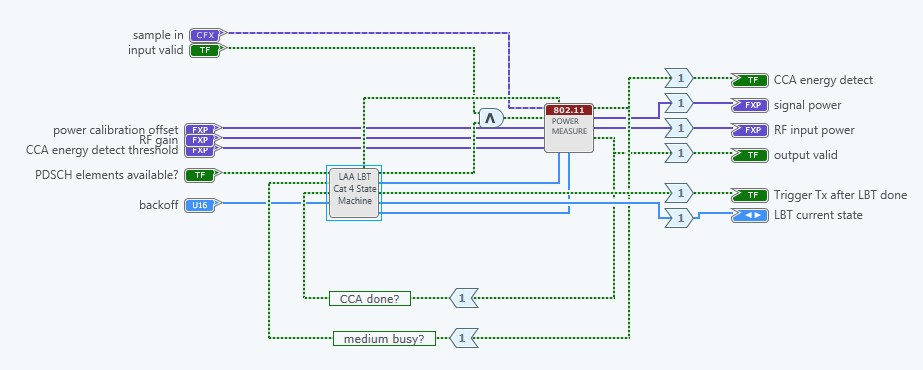 Figure 12: LBT Cat 4 top level module
Figure 13: LBT Cat 4 state machine
Preliminary Results
In order to gain a better understanding of the basic underlying principles, a simple setup has been used consisting of one USRP RIO representing the LTE eNB as well as the UE and commercially available Wi-Fi components off the shelf as shown in Figure 14 and Figure 15. The NI 802.11 application framework together with USRP can also be used for emulating the Wi-Fi network.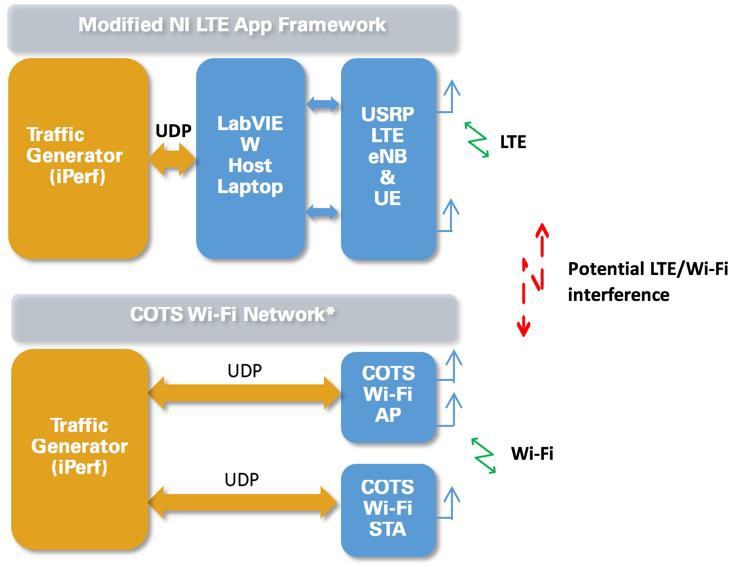 Figure 14: Basic LTE/Wi-Fi coexistence setup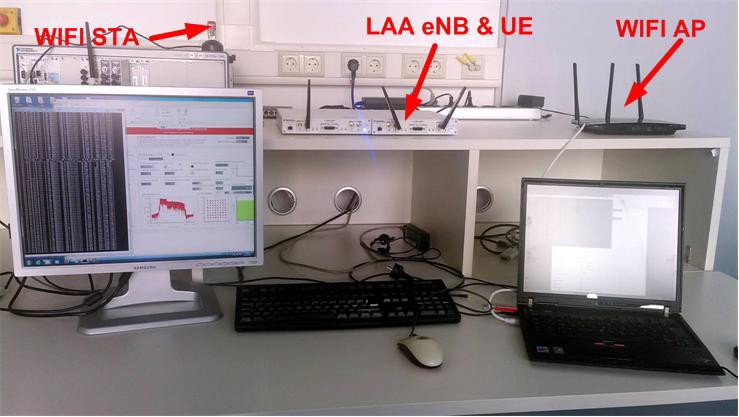 Figure 15: Basic LTE/Wi-Fi coexistence setup in lab environment
In Figure 16, first results are given for the LTE-U use case. In this case, the LTE-U duty cycle is varied by changing the ratio between the number of consecutive DL sub-frames and one radio frame. The plot shows the corresponding change in throughput of the Wi-Fi and the LTE-U link. The results match the expectations and show higher Wi-Fi throughput as we lower the LTE-U duty cycle and vice versa.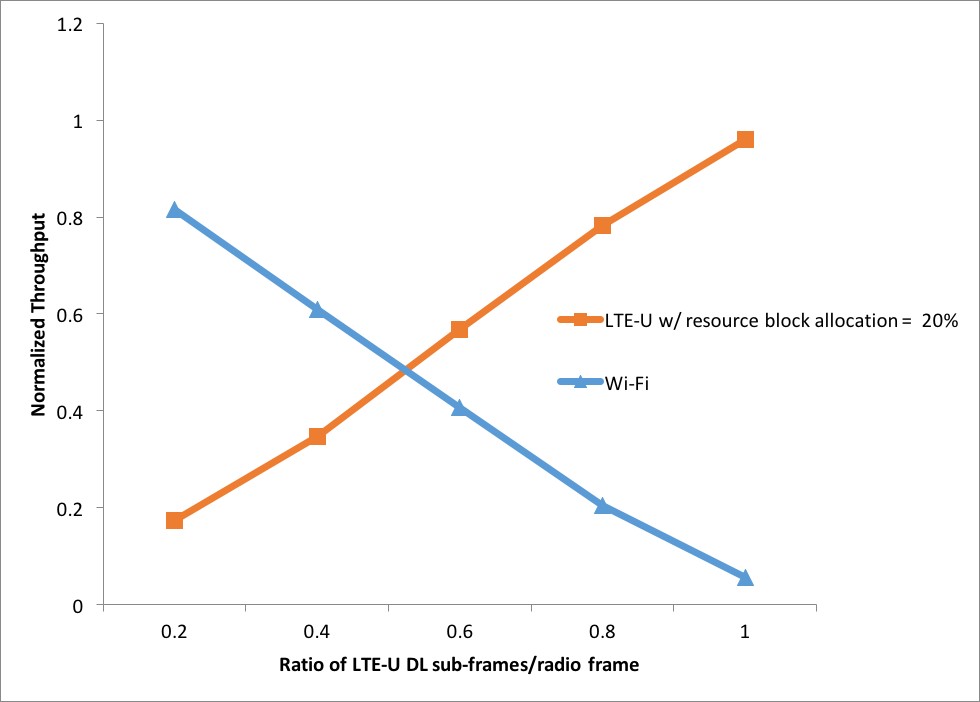 Figure 16: Normalized throughput for legacy Wi-Fi 802.11a and LTE-U for different duty cycle ratios.
Figure 17 shows how the throughput of a Wi-Fi 11ac VHT40 and LAA LBT Cat 4 system change, respectively, if the LAA eNB has been configured with different CCA energy detection threshold values. Both the Wi-Fi 11ac VHT40 node and the LAA node are seeing each other with an RSSI of around -67 dBm.
More experiments and results can be found in 3GPP contributions [16] and [17].
Figure 17: Throughput for Wi-Fi 802.11ac VHT40 and LAA with LBT cat 4 for varying LAA CCA energy detection thresholds
Conclusions
The NI 802.11 and LTE application frameworks have been used to build an application in order to serve the emerging need for a neutral platform that addresses research on coexistence between LTE and Wi-Fi.  All such methods either already proposed or envisioned in the future can be implemented using this test bed. 
In this white paper, the basic ideas, the architecture and the essential building blocks have been disclosed which enables research on PHY layer coexistence between LTE and Wi-Fi. Specifically, the design of the following features are discussed.
Discontinuous transmission
Listen Before Talk
The implementation of the discontinuous transmission feature allows support of LAA as well as LTE-U. The high configurability of this feature allows easy plug-in of algorithms to control the LTE-U duty cycle like CSAT algorithm. Discontinuous transmission in combination with the configurable LBT Cat 4 builds the backbone of the LAA channel access framework and can be used for real-world experiments as well as for further research. Preliminary results have proven that the testbed and the tools are ready for LTE-U as well as well LAA.
The high configurability of the prototype, namely the configurability of the duty cycle in LTE-U, the TXOP in LAA, the CCA ED threshold, the contention window size, etc. allows for a wide range of experiments for better understanding how coexistence will work and how to optimize the parameters in different use cases. The open architecture allows easy modifications or extensions towards more sophisticated coexistence schemes.
The presented LTE/Wi-Fi coexistence prototyping example based on NI 802.11 and LTE application frameworks is a ready-to-go solution that enables
Development engineers to run a neutral solution within a testbed
Deployment engineers to find good operating points for deployment-specific use cases and scenarios
Scientists for research towards the convergence of scheduled and ad-hoc wireless systems
Extensibility for testing and prototyping other LTE / Wi-Fi coexistence approaches such as D2D

[18]

, LWA

[3]

, and MulteFire

[19]

. 
Next Steps
Bibliography
| | |
| --- | --- |
| [1] | 3GPP, "RAN 5G Workshop," 19 September 2015. [Online]. Available: http://www.3gpp.org/news-events/3gpp-news/1734-ran_5g. |
| [2] | Ruckus Wireless, "Hotspot 2.0," [Online]. Available: http://www.ruckuswireless.com/technology/hotspot2. |
| [3] | 3GPP, "RP-151114: ​LTE-WLAN Radio Level Integration and Interworking Enhancement," 2015. |
| [4] | LTE-U Forum, [Online]. Available: http://www.lteuforum.org. |
| [5] | Qualcomm Technologies, Inc., "LTE-U Technology and Coexistence," LTE-U Forum Workshop, 28 May 2015. [Online]. Available: http://www.lteuforum.org/workshop.html. |
| [6] | Qualcomm, "On LTE-U/WiFi Coexistence," Wi-Fi LTE-U Coexistence Test Workshop, November 2015. [Online]. Available: http://www.wi-fi.org/file/wi-fi-lte-u-coexistence-test-workshop-presentations-november-2015. |
| [7] | N. Jindal, D. Breslin and A. Norman, "LTE-U and WiFi: A Coexistence Study by Google," Wi-Fi LTE-U Coexistence Test Workshop, November 2015. [Online]. Available: http://www.wi-fi.org/file/wi-fi-lte-u-coexistence-test-workshop-presentations-november-2015. |
| [8] | FCC, "Proceeding 15-105: Office of Engineering and Technology and Wireless Telecommunications Bureau Seek Information on Current Trends in LTE-U and LAA Technology," 2015. [Online]. Available: http://apps.fcc.gov/ecfs/proceeding/view?name=15-105. |
| [9] | 3GPP, "RP-151045: New Work Item on Licensed-Assisted Access to Unlicensed Spectrum," 2015. |
| [10] | 3GPP, "RP-141664: Study on Licensed-Assisted Access using LAA," 2014. |
| [11] | 3GPP, "36.889, v1.0.1: Study on Licensed-Assisted Access to Unlicensed Spectrum," 2015. |
| [12] | "LabVIEW Communications 802.11 Application Framework," National Instruments, [Online]. Available: http://sine.ni.com/nips/cds/view/p/lang/en/nid/213084. |
| [13] | "LabVIEW Communications LTE Application Framework," National Instruments, [Online]. Available: http://sine.ni.com/nips/cds/view/p/lang/en/nid/213083. |
| [14] | "LabVIEW Communications 802.11 Application Framework White Paper," National Instruments, [Online]. Available: http://www.ni.com/product-documentation/52533/en/. |
| [15] | "LabVIEW Communications LTE Application Framework White Paper," National Instruments, [Online]. Available: http://www.ni.com/white-paper/52524/en/. |
| [16] | "3GPP RAN1#82: Experimental Results on Coexistence of DL LAA and Commodity Wi-Fi Network with Cat 2 LBT," National Instruments, August 2015. [Online]. Available: http://www.3gpp.org/ftp/tsg_ran/WG1_RL1/TSGR1_82/Docs/R1-154740.zip. |
| [17] | "3GPP RAN1#83: Experimental Results on Impact of Energy Detection Threshold for DL LAA," National Instruments, November 2015. [Online]. Available: http://www.3gpp.org/ftp/tsg_ran/WG1_RL1/TSGR1_83/Docs/R1-156622.zip. |
| [18] | A. Asadi, V. Mancuzo and R. Gupta, "An SDR-based Experimental Study of Outband D2D Communications," in IEEE INFOCOM , San Francisco, 2016. |
| [19] | Qualcomm, Inc., "Introducing MulteFire: LTE-like Performance with WiFi-like Simplicity," June 2015. [Online]. Available: https://www.qualcomm.com/news/onq/2015/06/11/introducing-multefire-lte-performance-wi-fi-simplicity. |