For many years, test engineers have used software tools such as LabVIEW—instead of the fixed software in traditional boxed instruments—to automate test systems, analyze and present measurements, and reduce cost of test. This approach provides flexibility and takes advantage of the latest PC and CPU technologies. Very often, however, users demand to go one step further and also modify the way the instruments take measurements to better meet the needs of an application.
Off-the-shelf instruments traditionally are vendor defined and provide only fixed capability; however, NI is leading the way in more open, flexible instruments based on FPGA technology. The result is off-the-shelf hardware that has the best of both worlds: fixed, high-quality measurement technology; the latest digital bus integration; and user-customizable logic that is highly parallel, provides low latency, and is tied directly to I/O for inline processing.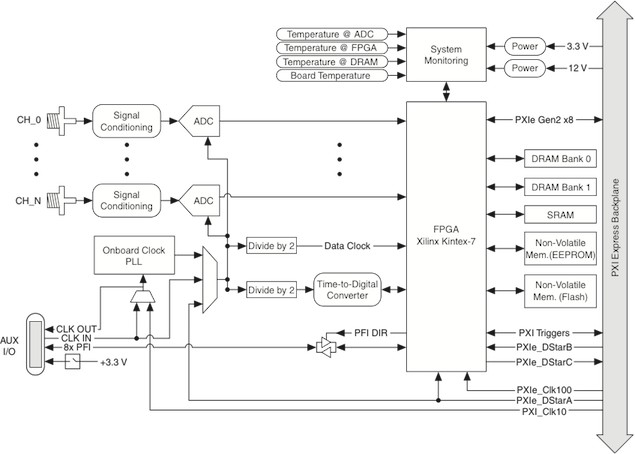 Figure 4. This is block diagram of the reconfigurable oscilloscope NI PXIe-5171R.
In the past, FPGA technology was available to only engineers with a deep understanding of digital hardware design using tools such as Verilog or VHDL. The rise of high-level system design tools, such as LabVIEW, changes the rules of FPGA programming, delivering new technologies that convert graphical block diagrams into digital hardware circuitry. All NI FPGA hardware products (including the NI PXIe-5171R) are built on the LabVIEW reconfigurable I/O (RIO) architecture, which features powerful floating-point processors, reconfigurable FPGAs, and modular I/O. The LabVIEW RIO architecture simplifies development and shortens time to market when designing advanced control, monitoring, and test applications. With LabVIEW, users can extend the instrument capabilities, for example, with custom triggers or additional timing or control signals. Users can also implement their own algorithms in the FPGA of software-designed instruments to repurpose the hardware for a completely different task. An oscilloscope, for instance, can be turned into a real-time spectrum analyzer, transient recorder, protocol analyzer, RF receiver, and much more.
This helps to reduce equipment cost because fewer instruments need to be purchased and maintained, which is a significant cost aspect in test systems.This can be especially helpful wherever there is a need to provide test and instrument capabilities over a very long time (greater than 10 years), for example in military or aerospace test systems. These applications often require recreating the behavior of old instruments that are no longer available (end of life).
Reconfigurable instruments are useful for this application because they can be reprogrammed to mimic the behavior of an old instrument. This helps save cost, because test system software requires much less rework and recertification to work with this new instrument.
An example of this type of instrument is the NI PXIe-5171R reconfigurable oscilloscope, which uses a Xilinx Kintex-7 FPGA to process acquired samples from the eight inputs in real time. Figure 4 illustrates how the user-programmable FPGA is integrated into the data path and also provides access to control and timing signals of the instrument.