When creating a build specification for your LabVIEW Real-Time application, you can choose to optionally create an application component by defining the parameters for a component definition file (CDF). A CDF stores the real-time application, version information corresponding to your LabVIEW Real-Time executable, and any dependency information specified. To learn more, please refer to the Component Definition Page help document and the Deploying from outside of the LabVIEW Development Environment section of the Building and Deploying a Stand-Alone Real-Time Application help document.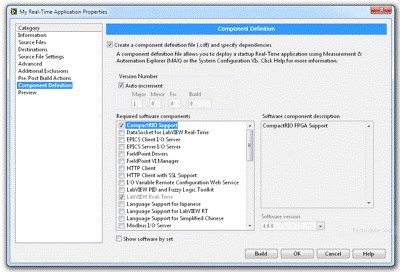 Figure 1. Use the Component Definition menu when configuring a LabVIEW Real-Time build specification to create a CDF, define application version information, and declare any software component dependencies.
Note that driver and component dependency information is not automatically detected based on the real-time application. To have the resulting CDF impose dependency requirements during deployment, one must explicitly select dependencies. When selecting dependencies, one can elect to either manually define the minimum versions for each dependent component or rely on the versions defined by a recommended software set. To protect against accidental version upgrades in dependencies when deploying, and for the highest reliability, it's strongly recommended that users rely on a recommended software set.
Using the Source Files and Destinations categories in the build specification process, one can also include packed project libraries, configuration files, web services, and more to be deployed along with the LabVIEW Real-Time application using a CDF. When finished with configuration, the built component definition file will be automatically saved in a subdirectory within the local RT Images directory. By default, on Windows machines, this directory is set to C:\Program Files\National Instruments\RT Images\User Components.