One instance of an instrument driver limiting your ability to use the full potential of an oscilloscope is invoking trigger modes. The oscilloscope IVI driver only allows for the use of a few trigger modes: edge, level, and window. An oscilloscope may have many more triggering modes, but the instrument driver can only configure the device to use those few. You may also want a very specific set of trigger logic that is not built into an oscilloscope that is available on the market. In this case, you could use the FPGA in the data path of the oscilloscope to program a logical trigger that will operate on the hardware of the instrument.
The LabVIEW FPGA Module extends LabVIEW system design software to FPGAs on NI reconfigurable I/O (RIO) hardware such as the PXIe-5171R and PXIe-5164 oscilloscopes, high-speed serial instruments, RF vector signal analyzers, and vector signal transceivers (VSTs), which introduced the concept of software-designed instruments in 2012.
Figure 3 shows the software architecture of a software-designed instrument (in this case, a reconfigurable oscilloscope). The architecture consists of routines implemented on the FPGA for the actual acquisition and real-time processing, as well as corresponding software modules on the host PC that interact with their FPGA counterparts to configure and control the measurements, handle the data transfer across the PXI Express bus, and present the data to the user.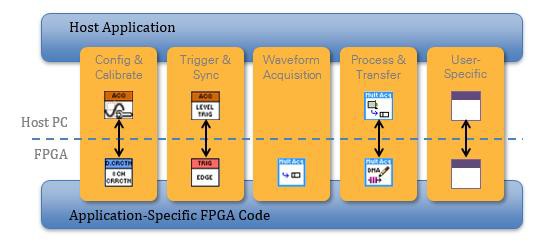 Host PC components are very similar to instrument drivers; FPGA code is comparable to traditional oscilloscope firmware. In contrast to traditional oscilloscopes, you can use these components to build custom oscilloscope IP, and because they are open, you can modify and extend them to match specific needs.