The second major challenge of high-channel-count systems is ensuring that the data from each channel is synchronized. Synchronizing channels between multiple oscilloscopes is difficult if each instrument has its own timing and synchronization engine. Even when box oscilloscopes support multi-instrument synchronization, you must calibrate out any clock skew delays resulting from different cable lengths or types. Additionally, routing trigger lines and sample clocks between box instruments becomes progressively more cumbersome as channel count increases.
Timing and Synchronization
PXI overcomes many traditional synchronization challenges by using an integrated timing and synchronization architecture to route synchronization clocks and triggers internally. A PXI chassis incorporates a dedicated 10 MHz system reference clock, PXI trigger bus, star trigger bus, and slot-to-slot local bus, while a PXI Express chassis adds a 100 MHz differential system clock, differential signaling, and differential star triggers to address advanced timing and synchronization needs.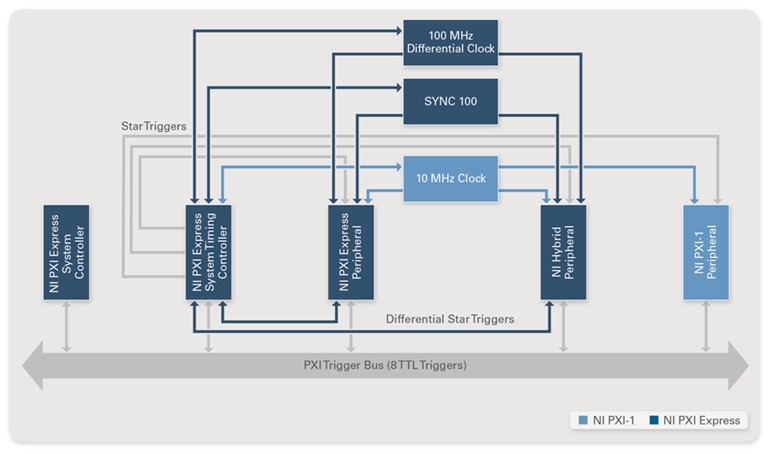 Figure 3. With the PXI timing and synchronization architecture, you can route trigger lines and reference clocks with minimal clock skew and drift.
NI Oscilloscopes Timing and Sync
In addition to the synchronization benefits of the PXI platform, NI designed its PXI oscilloscopes with other features that further simplify this process. From single-board channel expansion to the multichassis synchronization of instruments acquiring at different sample rates, NI PXI oscilloscopes offer the ideal hardware and software tools for synchronized high-speed DAQ.
NI has simplified the software tasks associated with building high-channel-count applications such as programmatically routing sample clocks and sharing triggers. Using powerful software tools such as NI LabVIEW, you can easily synchronize a few channels through channel expansion or hundreds of channels through the NI-TClk API. Channel expansion is a simple way to synchronize channels within a single digitizer and involves specifying your acquisition channels within a single resource string, as shown in Figure 4.
Figure 4. Single-Board Synchronization Through Channel Expansion
To synchronize over multiple instruments, NI has developed a patented method for synchronization called NI-TClk, which is designed to:
Align the sample clocks that may not necessarily be aligned initially despite being phase locked to the 10 MHz reference clock
Enable the accurate triggering of synchronized devices
The flexible NI-TClk technology is applicable to the following use cases:
High-speed modular instrument synchronization with a sample clock or reference clock
Extension of synchronization from a single PXI chassis to several PXI chassis to address high-channel systems using a system timing module
Homogeneous and heterogeneous synchronization—devices running at the same or different sample rates using internal or external sample clocks
The NI-TClk API simplifies the user experience by helping you configure the trigger settings and clock synchronization through three LabVIEW functions (VIs) that make your system appear as one multichannel oscilloscope. The three LabVIEW VIs require no external parameters and work by simply passing an array of instrument sessions into the NI-TClk API. NI-TClk architectures can deliver synchronized devices with skews of at worst 1 ns between each device. Typical observed skews fall between 200 ps and 500 ps. Manual calibration of the sample clock on each device can lower skews to less than 30 ps between devices.

Figure 5. The NI-TClk API for Synchronizing Channels Over Multiple Instruments
Advanced Topic: Synchronizing PXI Oscilloscopes Over Multiple PXI Chassis
If you need additional channels or higher clock accuracy than the PXI chassis natively provides, the platform accepts multichassis synchronization and precision timing and synchronization modules with reference clocks capable of 50 parts per billion accuracy compared to the typical 100 parts per million accuracy of box oscilloscopes. If the required distance between synchronized chassis is too great for cables to reliably transmit clock and trigger signals, you can use a time-based synchronization architecture. With an NI PXI timing and synchronization solution, you can take advantage of absolute time reference protocols such as IEEE 1588, GPS, and IRIG-B to achieve synchronization over large distances.