How to Optimize Expanding Test to the Left 
Test-optimization is helpful when you're trying to front-load the left side of the V and increase effectiveness in the lab and physical world, as well as across all domains. This is the moment that reveals technology's strengths and weaknesses.  
Traditionally, test suppliers have focused primarily on being the best in one area—simulation, lab, or physical test—but not all three. When improving test through a modular hardware approach that is also connected through software, it helps to optimize these three areas: 
1. Reuse Test Components  
While reusing components poses a cost benefit, it's really the time savings that makes it so valuable—and it's absolutely software-centric. By minimizing rework between V-diagram stages, you achieve a more integrated design and test.  
In practice, though, challenges abound— including supplier tensions, the way the organization is structured, siloed, or measured, and technology. The technology challenge, though, should be easier to surmount, as you can incorporate the right test architecture so that engineers can take the test modules across different in-the-loop stages, from component test to system to integration test.  
Employing open test-system and test-development software architectures, we can reuse test cases, equipment, and engineering development, not only within groups working on the same products, but between serially developed products. Volvo's example validates how the right architecture and technology future-proofs test systems to hit delivery dates, quality standards, and budget requirements. They efficiently integrated products from multiple vendors, reused existing components, and built flexibility into the system to prepare for Volvo's future needs. Setting up the whole system was so seamless that they delivered world-class quality on time and at the right cost with limited resources. 
2. Use Your Data Better
When you're shifting left, you need to make data work in favor of the shift, instead of it being another challenge to overcome. This is especially important with CASE, as test data has exploded so much that organizations absolutely must become more data-driven.  
Because of technology and methodology limitations, it's common to analyze only a portion of test-specific data (which, subsequently, is rarely linked back to previous test stages or pushed forward as test intelligence to future test stages). However, Jaguar Land Rover automated their data management for increased analysis, significantly reducing test reruns and weaving cost and test-reliability benefits all the way through to physical test. 
Using data to test earlier also:
Provides the best simulation and statistical modeling, which is increasingly important when testing new, previously untested or documented technologies (such as autonomy)
Improves and helps automate test-case generation, which eliminates unnecessary test reruns and increases test coverage with traceable results
Protects from risk and eventual failures (or recalls) by rigorously tracking every product from design to test results
Shows a wider, multiangle, multiprocess test view in virtual, lab, and physical environments, helping you better understand your test coverage
Assists with test and development investment decisions (capital expenditures and operating expenses)
Becomes the first step to truly leveraging artificial intelligence, machine learning, and other industrial process technologies
 
And, perhaps most importantly, using data to bridge communication between groups working on a specific product expedites decision-making, collaboration, and course-correction. 
3. Understand Where You're Starting 
As with any journey, the starting point matters just as much as where you're going. Really understanding how test is happening now helps you discover gaps in which test could be occurring, and how covering those gaps would benefit your company.  
The basic concept is simple: Move away from reworks in the red zone, as shown in Figure 4.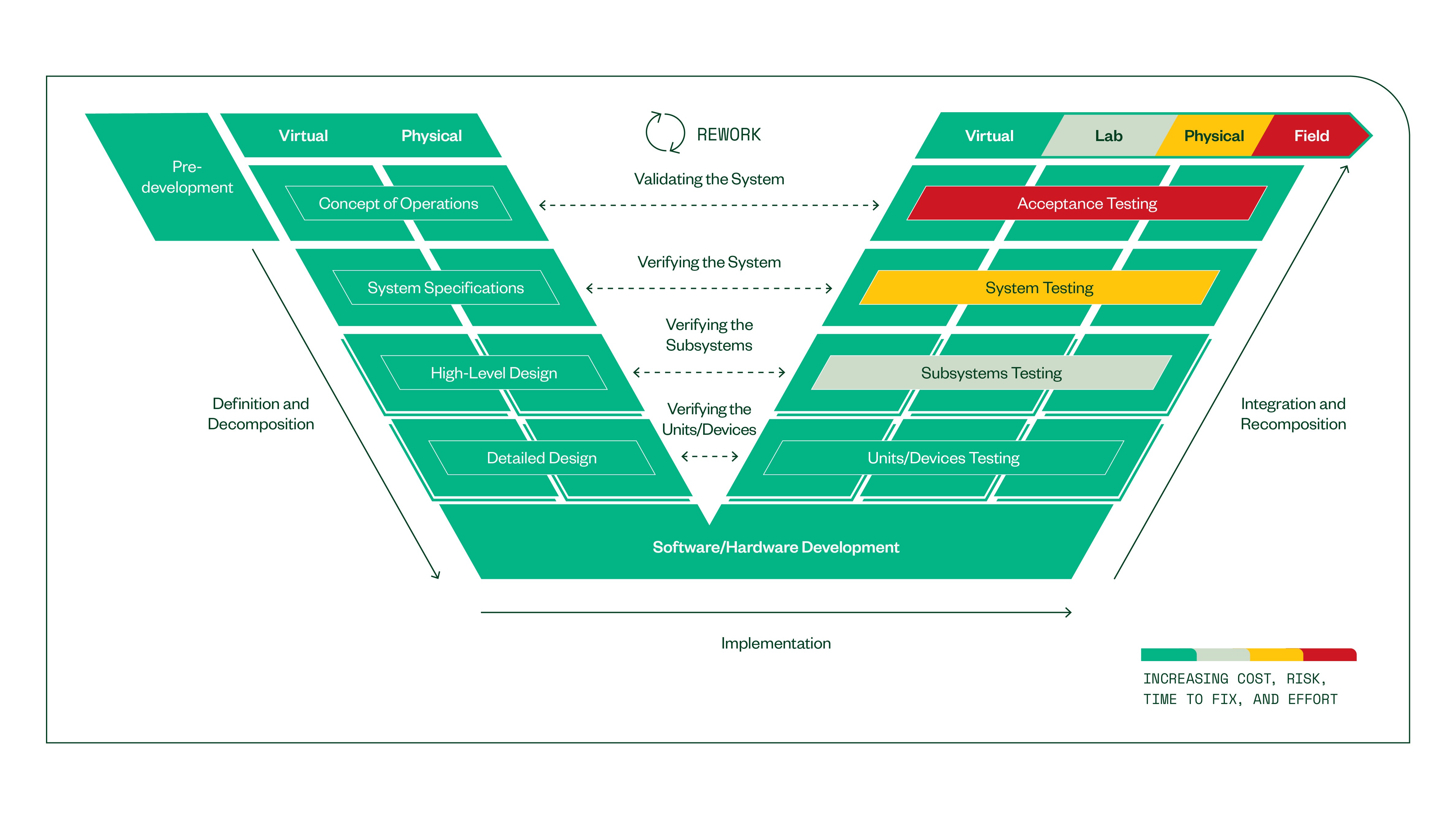 Figure 4. Rework at different stages can place you in the red zone, where wasting time and resources grows disproportionately.
However, this is tremendously difficult, and often harder to do singlehandedly, as it requires companies to be self-critical, multidisciplinary, and data-driven, with an appropriate understanding of industry best practices. Fortunately, bringing in a consulting service such as NI can introduce an external, diversified, multivector (people, process, and technology) view backed by broad experience, leading to valuable discoveries and, eventually, an action plan to make the shift.
To get started with your self-assessment, consider where you're sitting in the testing-scenario balance: How much do you test in simulation, HIL, replay, and on the road, and where/how can you optimize your investment? Difficulty answering this question clearly indicates an opportunity to shift more towards simulation and HIL to become more effective at testing.