Isn't it odd that monitoring professionals walk routes between equipment to gather data, yet technology on the market can help consumers see inside a refrigerator with their cell phones?
This technology exists for turbomachinery. Analysts can decide which plant, line, or asset they need to visit to best impact reliability before grabbing their hard hats or car keys. The goal of remote diagnostics is to provide data that, as much as possible, alleviates the need for analysts to be on-site. The concept is simple: connect sensor data to an IT network, so experts receive asset health data through a web browser rather than traveling to collect it with handheld instrumentation and their own senses.
It's important to note the different types of data needed for remote diagnostics. Many systems report overall feature calculations (RMS, peak-peak, 1X/2X magnitude, and so on), and others report full waveform data. Overall, feature calculations alarm on general problems and are used to identify some failure modes, but feature alarms need a follow-up analysis with waveform data (typically captured by handheld devices) for more in-depth analysis (see Figure 1). If waveform data is the goal, the systems that connect waveform data to the cloud are the ones that most effectively improve productivity.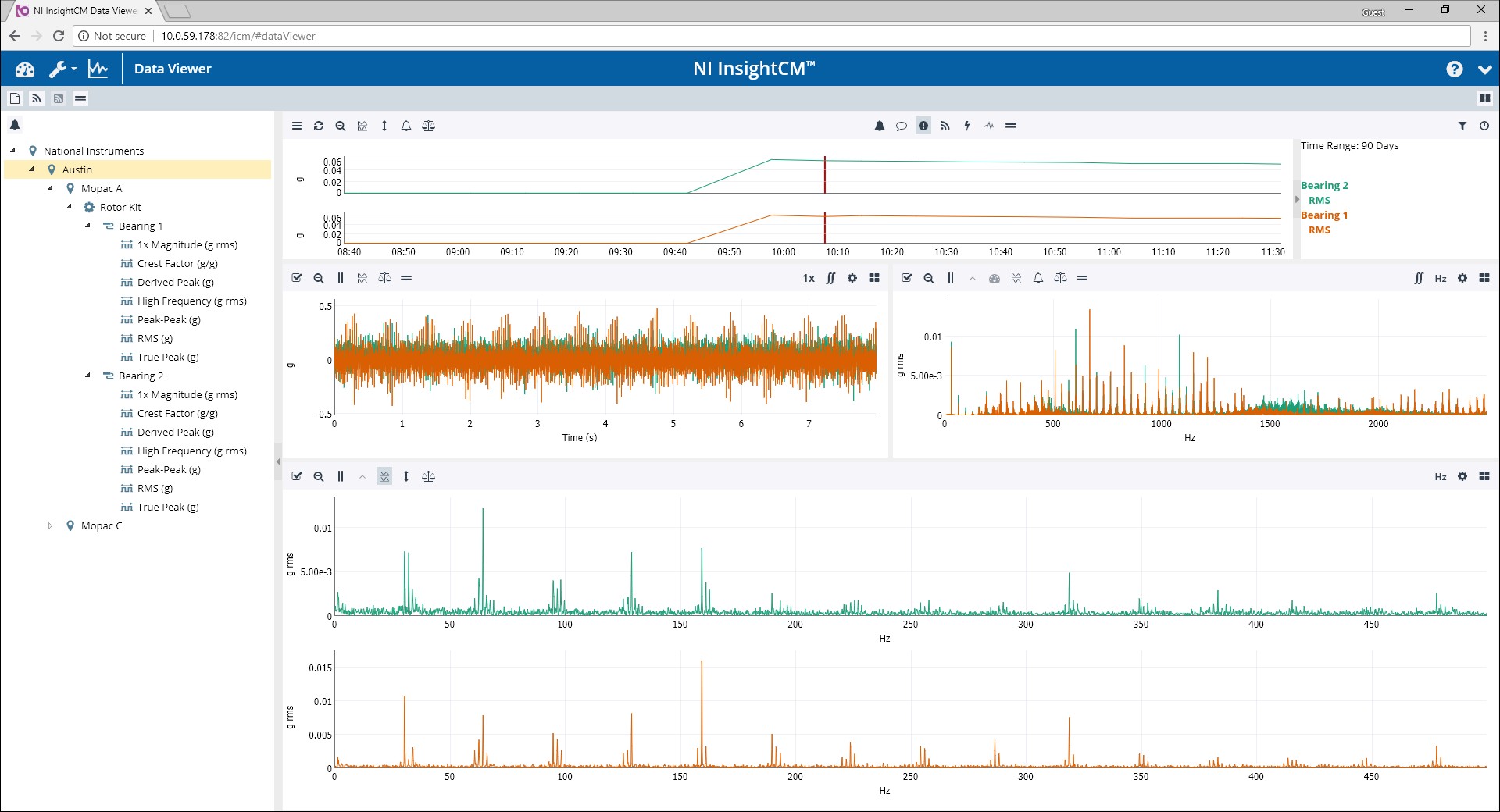 Figure 1. This vibration measurement layout in NI InsightCM™ shows an RMS trend line, waveform, spectrum, and envelope analysis. Web access to waveform data and analysis helps experts remotely diagnose asset health.
Remote analysis, at minimum, provides peace of mind without involving road trips, catwalks, ad hoc plant walk downs, or calls to the expert who is currently out of town. In some cases, remote analysis can prevent a profit draining outage.
Vibration data is one of the primary measurements for asset health, but it's not the only sensor technology used to diagnose problems. Oil analysis, motor-current signature analysis, infrared thermography, electromagnetic signature analysis, and others are used to capture a broader range of failure modes and conduct differential diagnosis. Server software for asset monitoring must be able to manage data from multiple sensor technologies so analysts can have more confidence in their remote diagnosis and know how to best focus their time. A more critical piece of equipment may not be as big a risk to uptime as a less critical asset with a more devastating issue.
Experienced analysts use their senses to help diagnose equipment problems: does the machine sound, smell, or look off? Now software technology (see Figure 2) can convert digitized accelerometer data into an audio file so analysts can listen for problems as if they were standing in front of the equipment.


Figure 2. Software technology converts raw, digitized accelerometer data into an audio file so analysts can listen for problems from across the factory or across the country.