The PMU solution based on the National Instruments CompactRIO platform, allows operators and engineers to gain grid condition visibility, situational awareness, event analysis, and the ability to take corrective action to ensure a reliable electric network. This enables a wide range of applications and can bring significant financial benefits such as:
• Operational efficiency
• Improved asset management
• Minimize regulatory risk
• Informed decision making
The benefits of using PMU technology enable utilities to proactively plan and prevent deviations in the delivery of energy. The PMU instrumentation based of NI compactRIO technology is designed to meet requirements for reliability, interoperability, extreme environmental conditions suitable for substation or pole mount, and advanced algorithms for event and system analysis.
Key features include:

• High performance based on intel core i7 processors supporting advanced real-time analytics
• High fidelity ADCs with 24-bits of resolution
• Dual-Ethernet, serial ports and digital communication
• Acquisition rates up to 833 samples/cycle
• Data transfer configurable up to 240 messages per second
• Multichannel synchrophasors with scalable mixed I/O (AI, AO, Digital)
• Data packages based on IEEE C37.118-2011
• Simultaneous multiple protocols TCP/IP, DNP3, Modbus RTU, IEC-60870, IEC 61850
• PMU and power quality algorithms in one unit
• Rugged design: -40 to 70 C
Solution Implementation
Distributed systems such as PMUs, or distributed intelligence is not a novel concept. For mathematicians, it may be farming out computing tasks to a computer grid. Business executives may think of Web-based commerce systems globally processing orders. Facilities managers may imagine wireless sensor networks monitoring the health of a building. All of these examples, however, share a fundamental theme – a distributed system is any system that uses multiple processors/nodes to solve a problem. Because of the tremendous cost and performance improvements in FPGA technology, and its applications to build smart grid-ready instrumentation described previously, power engineers are finding more effective ways to meet smart grid application challenges by adding more computing engines/nodes to smart grid systems.
Distributed intelligence promotes optimum network response times and bandwidth utilization, allows unprecedented amounts of data and grid control operations to be seamlessly managed through the system without clogging wireless networks, and enhances reliability through decentralized coordination instead of through the imposition of hierarchical control via a central SCADA system. However, designing multiple computing engines into a smart grid control system, and later managing those systems has not been as easy as engineers might hope.
Developing distributed systems introduces an entirely new set of programming challenges that traditional tools do not properly address. It requires unique programming approaches. For instance, in a sensor network, wireless sensors are self-organizing units that organically connect to other sensors in the vicinity to build a communication fabric. In another example, grid monitoring systems feature remotely distributed, headless reclosers, power quality meters, circuit breakers, PMUs, etc. that monitor and control different grid conditions while logging data to SCADA databases. The challenges engineers and scientists face in developing distributed systems include (1) programming applications that take advantage of multiple processors/nodes based on the same or mixed architectures, (2) sharing data efficiently among multiple processors/nodes that are either directly connected on a single PCB or box or remotely connected on a network, (3) coordinating all nodes as a single system, including the timing and synchronization between nodes, (4) integrating different types of I/O such as high-speed digital, analog waveforms, phasor measurement measurements, (5) incorporating additional services to the data shared between nodes, such as logging, alarming, remote viewing, and integration with enterprise SCADA systems.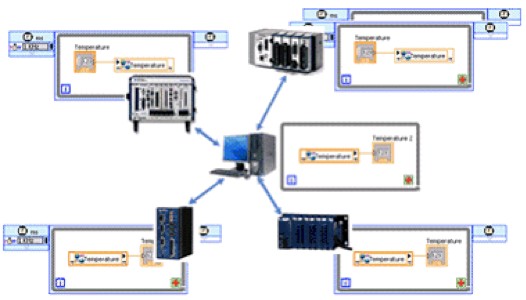 Fig. 5:  Distributed systems can range from systems physically located in a single box or remote systems remotely distributed in separate devices or systems on a network.
The following sub-sections discuss key technologies and approaches to mitigate the new challenges introduced by distributed intelligence applications.

A.  Graphical System Design

These advanced concepts are not commonplace in the power industry yet, but common in other demanding industries such as military/aero, automotive, oil and gas. With the introduction of Graphical System Design tools, such as National Instruments LabVIEW that leverage the data flow paradigm, the complexity of such concepts can be abstracted at a higher level facilitating application and system development. In the data flow paradigm, a program node executes when it receives all required inputs. When a node executes, it produces output data and passes the data to the next node in the dataflow path. The movement of data through the nodes determines the execution order of the VIs and functions on the block diagram. Visual Basic, C++, JAVA, and most other text-based programming languages follow a control flow model of program execution. In control flow, the sequential order of program elements determines the execution order of a program. For a dataflow programming example, consider a block diagram that adds two numbers and then subtracts 50.00 from the result of the addition, as shown in Figure 6. In this case, the block diagram executes from left to right, not because the objects are placed in that order, but because the Subtract function cannot execute until the Add function finishes executing and passes the data to the Subtract function. Remember that a node executes only when data are available at all of its input terminals and supplies data to the output terminals only when the node finishes execution.



Fig. 6:  Dataflow Programming Example
The Graphical System Design approach addresses those programming challenges by providing the tools to program dissimilar nodes from a single development environment using a block diagram approach engineers and scientists are familiar with. Engineers can then develop code to run on computing devices ranging from desktop PCs, embedded controllers, FPGAs, and DSPs utilizing the same development environment. The ability of one tool to transcend the boundaries of node functionality dramatically reduces the complexity and increases the efficiency of distributed application development.

B.  Communication and Data Transfer

Distributed systems also requires various forms of communication and data sharing. Addressing communication needs between often functionally different nodes is challenging. While various standards and protocols exist for communication – such as DNP3, IEC 60870, IEC 61850, TCP/IP, Modbus TCP, OPC – one protocol cannot usually meet all of an engineer's needs, and each protocol has a different API. This forces engineers designing distributed systems to use multiple communication protocols to complete the entire system. For deterministic data transfer between nodes, engineers are often forced to use complex and sometimes expensive solutions based on technologies such as reflective memory, EtherCAT, C37.118, and IEC 61850 GOOSE/SMV. In addition, any communication protocol or system an engineer uses also must integrate with existing enterprise SCADA systems. One way to address these often competing needs is to abstract the specific transport layer and protocol. By doing this, engineers can use multiple protocols under the hood, unify the code development, and dramatically save development time. Once more Graphical System Design tools address these challenges with flexible, open communication interfaces that provides data sharing among multiple device nodes (for example, a circuit breaker and a recloser) and integrates with SCADA systems.

C.  Synchronizing the System across Multiple Nodes

Another important component of many distributed systems is coordination and synchronization across intelligent nodes of a network. For many grid control systems, the interface to the external system is through I/O – sensors, actuators, or direct electronic signals. Traditional instruments connected through GPIB, USB, or Ethernet to a computer can be considered a node on a distributed system because the instruments provide in-box processing and analysis using a processor. However, the system developer may not have direct access to the inner workings of a traditional instrument, making it difficult to optimize the performance of the instrument within the context of an entire system.
Through virtual instrumentation platforms – such as National Instruments CompactRIO, which is based on chassis with backplanes and user-selectable modules – engineers have more options for synchronization and control. National Instruments LabVIEW provides fast development for FPGA-based reconfigurable I/O (RIO) devices and tight integration with dedicated circuitry for synchronizing multiple devices to act as one for distributed and high-channel-count applications. Engineers can extend compactRIO chassis backplanes across multiple chassis to share timing and trigger signals using a varety of techniques including IEEE 1588, high-speed digital lines or built-in GPS receivers to implement advanced multi-device synchronization.

D.  Navigate, Debug, and Deploy Code to Distributed Nodes

Moving data and commands among different computing nodes in a distributed system is only one of the challenges involved in developing a distributed system. Managing and deploying the source that runs on these distributed nodes is a fundamental challenge faced by system developers. In the simplest distributed case, where homogenous computing nodes execute the exact same source code, engineers can maintain the master source in one place and then distribute it to all nodes when they alter the code. In the advanced distributed case, each node has dissimilar executable code running on mixed architectures, and all nodes may not be online simultaneously.
A Graphical System Design environment such as NI LabVIEW can be used to manage the source code and application distribution for an entire system of computing nodes from one environment.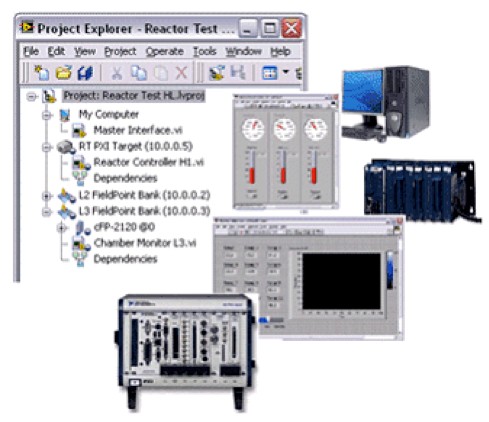 Fig. 7: The LabVIEW project stores the source code and settings for all nodes in a distributed system, including: PCs, real-time controllers, FPGA processors, and handheld devices.
With NI LabVIEW, developers can significantly simplify the entire system development. All real-time, FPGA, and handheld devices in the system are visible in the LabVIEW project, making it easy for developers to manage the system. Developers can add targets to the project even if they are off line, making it simpler to design the architecture and develop the system when some components are missing. From an intuitive tree view in the project, developers can view, edit, redeploy, execute, and debug code running on any node in the system. Developers can observe the interaction among all the distributed system nodes in real time, which is critical because intelligent nodes can execute simultaneously. This ability improves communication and synchronization design, development, and debugging, as well as reducing overall development time significantly.
Additional Resources