VLM is installed and hosted by a server on your company's internal network,
VLM contains license file (obtained from NI) that includes the software licenses on your company's NI Volume License Agreement (VLA),
NI software is installed on the client computer, 
The client computer is connected to the VLM server,
The client computer requests permission for licenses from VLM,
As the administrator, you have the option to accept or reject every permission request coming in, or the tool can automatically accept permission requests for you,
Once accepted the client is assigned a license (or entered into a group),
When the NI software starts on the client computer, it asks VLM if it has permission to run. Figure 1 shows how VLM manages NI software over an internal network.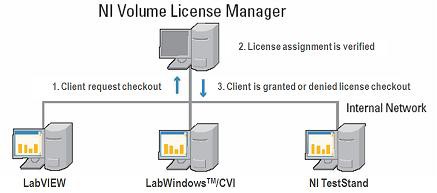 Figure 1. NI VLM Server Managing Client Computers with NI Software
Sometimes you may have a client computer that is not connected to the internal network. Computers in labs or laptops that do not stay connected to the internal network can be issued a disconnected license using VLM.  This will allow the computer to use the software until the expiration date defined during setup.
For more details about the set-up and installation process for Volume License Manager, visit Get Started with VLA and Set Up NI Volume License Manager (VLM).