This white paper is part of a series describing the capabilities of the CompactRIO platform. Read additional papers in this series to learn how you can use CompactRIO to simplify the design of advanced control systems.
Sophisticated applications such as complex timing and triggering, synchronization, and vision-guided motion, are becoming more common, while pressure remains to reduce design times and create smaller, more cost effective systems.  Traditional PCI-based motion solutions commonly rely on a separate motion control subsystem that adds size and cost and increases overall system complexity.  As technology evolves, so must your approach – simplify system design with CompactRIO: the ultimate multipurpose controller.   
Figure 1.  The CompactRIO platform allows you to innovate with a platform and develop high-performance control systems fast.
Motion Control with CompactRIO
Using CompactRIO as your motion controller provides the flexibility to connect with NI and third-party motion hardware.  With support for digital buses like EtherCAT, drive and drive interface C Series modules, or even your own custom protocols, you can communicate with, synchronize, and control an ever-growing variety of motors and drives from a single system.  CompactRIO improves integration by using high-level commands to solve advanced motion requirements while also giving you the flexibility to customize algorithms, IP, feedback, and behavior all the way to the I/O pin with native configuration tools and built-in, motion-specific functions.  This flexibility is made possible by the power of the on-board user-programmable FPGA, which can be used for more than just motion control – use LabVIEW FPGA to co-process image data from cameras attached to the system, or perform addition signal analysis from sensors connected to the controller without previous knowledge of traditional FPGA design tools such as VHDL or Verilog.  With the unrivaled performance and integration capabilities of CompactRIO, machine vision and motion control subsystems can be combined within the same controller, which minimizes latency, improves performance, and simplifies overall system complexity.  Simply choose the cameras, motion hardware, and I/O modules that meet your needs, and use a single software tool chain to develop and customize your application.
Learn more about NI's motion control offering.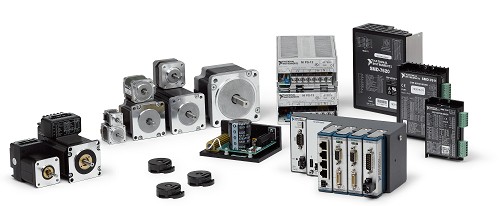 Figure 2.  The CompactRIO platform provides direct connectivity to motors and drives allowing you to combine motion control with other measurement and control tasks.
Improve Productivity and Innovation with the Virtual Axis
The LabVIEW SoftMotion Module contains a wide range of built-in motion control functions, configuration and tuning tools, and examples that can be deployed across many of NI's hardware platforms, including CompactRIO.  A key feature of SoftMotion is the Virtual Axis, which accelerates the development of complex motion applications.  The virtual axis reference can be bound to simulated or physical hardware, and system designers can send high-level motion control commands directly to the virtual axis.  The axis can easily be re-bound to other hardware and there is rarely a need to modify operating code.  SoftMotion code is vendor and hardware agnostic, allowing for code reuse when upgrading hardware or preparing for future applications.  SoftMotion code is generated in LabVIEW, providing seamless integration with code written for other parts of the system, such as vision acquisition and processing, analog and digital I/O, or displays and data visualization.  This means that motion control code written with SoftMotion can synchronize with, be triggered by, or feed data to any other process – simplifying the overall design of advanced control applications.  
Learn more about how SoftMotion can enhance your motion control application.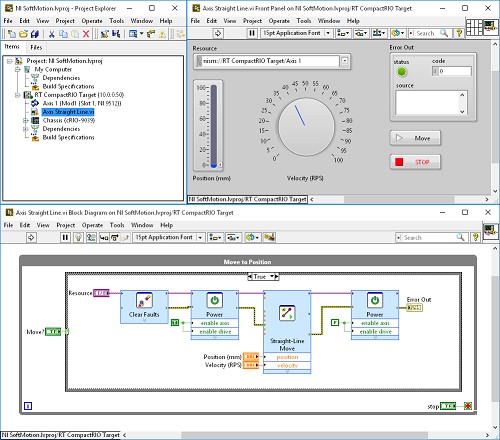 Figure 3.  With the LabVIEW SoftMotion Module you can develop your motion control application using virtual axes and seamlessly integrate with other processes.
Motion Hardware for CompactRIO
NI offers a variety of motion control hardware options for CompactRIO that can connect with and control almost any drive and motor.  One of the most commonly-used industrial fieldbuses for motion control is EtherCAT.  CompactRIO can be configured as a real-time EtherCAT master to reliably control and synchronize entire networks of motors and drives.  When using EtherCAT, traditional wiring challenges associated with connecting a motor or drive to a network are eliminated, as commands are sent to devices using conventional Ethernet cabling. 
NI has a strong global partnership with Kollmorgen, an industry leader in control and automation with over 40 years of experience in motor and drive development, and offers native support for their AKD series of analog and EtherCAT servomotor drives.  NI proudly sells, supports, and helps you get started with the high-quality brushless servomotor drives, motors, actuators, and motion accessories manufactured by Kollmorgen. 
Figure 4.  CompactRIO can be configured as a real-time EtherCAT master to reliably control and synchronize entire networks of motors and drives.
You can also connect to your motor or drive through C Series I/O modules.  NI offers two different types of modules to interface with your hardware – drive modules and drive interface modules.  Drive modules are motion drives that directly power and control motors from the CompactRIO controller.  All drive control loops that normally reside in external drive firmware are implemented in the LabVIEW FPGA Module, allowing for low-level customization and synchronization with I/O without the need for knowledge of traditional FPGA design approaches such as VHDL or Verilog.  Drive interface modules contain all the I/O you need to control one axis of motion with associated motion I/O (limits, drive communication, general-purpose I/O, capture and compare, incremental encoder feedback, etc.).  These modules connect or interface to external motion drives.
In addition to the motion-specific C Series modules, many of the general I/O C Series modules can be used for motion control. 
Learn more about connecting motors and drives to CompactRIO through C Series drive and drive interface modules. 

Figure 5.  NI offers a number of motion-specific as well as generic I/O modules that you can use for your motion control application.
NI also has its own stepper motion portfolio with analog and Ethernet-connectible integrated stepper motors and stepper motor drives, 2-phase hybrid step motors, and connectivity accessories.  Combine these products with C Series Drive Interface modules or control many of them using TCP/IP commands from a CompactRIO controller. 
Learn more about NI's stepper motor portfolio.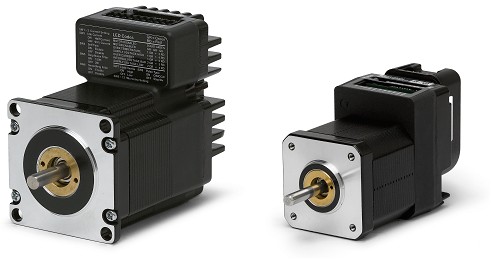 Figure 6.  Connect to NI stepper motors and drives with traditional cabling or over Ethernet
Next Steps
Improve the integration and performance of your next motion control application with CompactRIO: The Ultimate Multipurpose Controller. Learn more about the CompactRIO platform, or read additional papers in this series.