NI Switch Executive is an intelligent switch management and routing application that accelerates development and simplifies maintenance of complex switch systems. The point-and-click graphical configuration and automatic routing capabilities make it easy to program large switch matrices. Using intuitive channel aliases and route names keeps your system documented for future updates.
NI SwitchBlock Configuration Wizard
NI Switch Executive 3.5 includes a wizard that creates hardwires and route reservations for the NI SwitchBlock before you enter the configuration environment. In the first screen of the wizard, you are asked if you want to configure your routes by automatically routing signals between endpoints or by manually selecting relays for each route one at a time. It is important to understand the difference between the two programming options: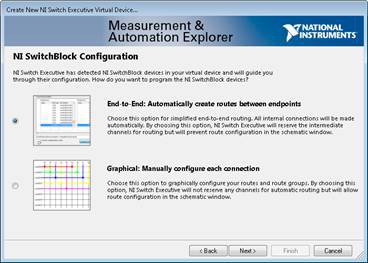 Figure 2. The NI SwitchBlock Configuration Wizard automatically creates hardwires and route reservations based on your preferred route creation interface.
End-to-End Configuration
By choosing the end-to-end programming option, you can take advantage of the intelligent routing in NI Switch Executive. Simply click on any row-column or column-column combination inside Routes/Groups, and NI Switch Executive automatically finds a path between the two endpoints.

Figure 3. Given the endpoints, NI Switch Executive automatically creates a route through the NI SwitchBlock.
Note: When using end-to-end programming with the NI SwitchBlock, the graphical configuration on the Schematic tab becomes read-only.
Graphical Configuration
By choosing the graphical programming option, you can specify every relay closure in your route or route group using the Schematic tab in NI Switch Executive. This is most beneficial when configuring routes that you wish to pass through a particular matrix row or analog bus line. The complete control offered in the Schematic tab is also used to optimize relay utilization through relay count tracking. See NI Switch Health Center for more information.
Figure 4. Programming with the graphical configuration gives you total control over each relay in the NI SwitchBlock.