One of VISA's advantages is that it uses many of the same operations to communicate with instruments regardless of the interface type. For example, the VISA command to write an ASCII string to a message-based instrument is the same whether the instrument is Serial, GPIB, or USB. Thus, VISA provides interface independence. This can make it easy to switch interfaces and also gives the users who must program instruments for different interfaces a single language they can learn.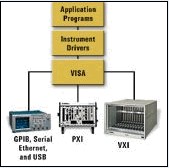 VISA is also designed so that programs written using VISA function calls are easily portable from one platform to another. VISA does this by defining its own data types. This prevents problems like, for example, possible problems caused by moving from one platform to another where the size of an integer may be different. In other words, a LabVIEW application written with VISA calls can be easily ported to another platform that supports LabVIEW. NI-VISA supports several operating systems, including currently supported Windows OS versions, MAC OS versions, and Linux distributions.

VISA's greatest advantage is that it is an extremely easy language to learn. VISA provides a very simple-to-use API that has bus independent functions for most of its I/O functionality. VISA provides the most commonly used functionality for instrumentation in a very compact command set, eliminating the need to learn low level communication protocols for multiple bus types.