Many of these common tests have been proven to be the most effective to catch issues with the semiconductor device. For characterization test, they also can provide insight into the function of the chip. The following sections discuss which tests are appropriate for characterization, production, or both. Some tests are used for both packaged chips as well as wafer-level testing.
The tests can be broken down into five categories: RF power measurements, spectral measurements, network analysis, modulation accuracy measurements, and DC measurements.

RF Power Measurements

Tx power or transmit power is probably the most common measurement performed for a device. Output power from the device must be within compliance of its design. You can perform this measurement using a variety of measurement equipment including a power meter, vector signal analyzer (VSA), and vector network analyzer (VNA).
Power versus time (PVT) measures the burst power and the average power of a signal. It is commonly used for bursted RF signals such as GSM or WLAN. Often, a mask is placed around the signal to make sure it is in compliance for the test.

Figure 3. A PVT measurement is commonly used for bursted signals.
Gain is an important measurement for PAs. Gain = Pin – Pout where Pin is input power to the amplifier and Pout is out resulting output power after amplification. By having a known input power, typically by using good calibration techniques, you can use this as your Pin reference. A highly accurate device such as a power meter measures Pout. Some measurement products such as VSAs can measure gain as well if they are measuring relative gain.

Return loss provides insight into the reflection of the original signal when going through the RF front-end device. This is important especially when trying to measure voltage standing wave ratio (VSWR) for best impedance matching. Because it references a ratio of the input and output signal, it is typically measured with a VNA. In some cases, it is possible to use a vector signal generator (VSG), VSA, and coupler although care must be taken when performing system calibration of this hardware.

Power efficiency is one of the more important PA measurements because it determines how well a PA uses battery power from a mobile device. The higher the efficiency, the longer the battery lasts, which is ideal for device manufacturers. You can calculate power efficiency in a couple of different ways, depending on whether the device is a high-gain amplifier.


Where Pout is the measured power from the amplifier, PDC is the supplied power from the battery source or battery simulator, and Pin is the input power, which is typically a controller tone or continuous waveform (CW).
1 dB compression is also an important measurement. Since PAs eventually become nonlinear as they are driven to their maximum output level, they start to deviate from their ideal linear output. This deviation is best illustrated in Figure 4.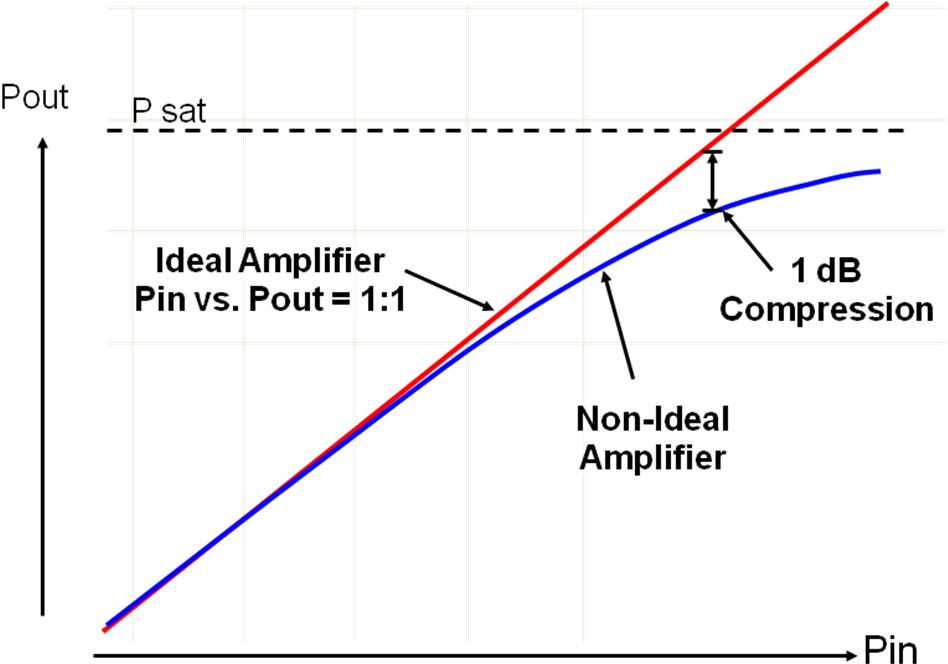 Figure 4. The 1db compression is the point where the ideal linear amplifier and the real-world amplifier deviate by 1 dB.
As you increase the power input or Pin, the PA begins to saturate and level off to a maximum power output called Psat. The point where the ideal linear amplifier and the real-world amplifier deviate by 1 dB is called the 1 dB compression. The signal is compressed by its natural saturation point. In PA design, it is ideal to get as close as possible to this 1 dB point because of power efficiencies close to this level.

Servoing is a unique concept to PAs. Because the calibrated output power must be known, a power control technique is used to determine this final gain amount. This is done by creating a control loop to capture a desired output power and controlling the generator power until that output power is achieved. In simplest terms, it uses a proportional control loop to swing back and forth in power levels until the output power level converges with the desired power.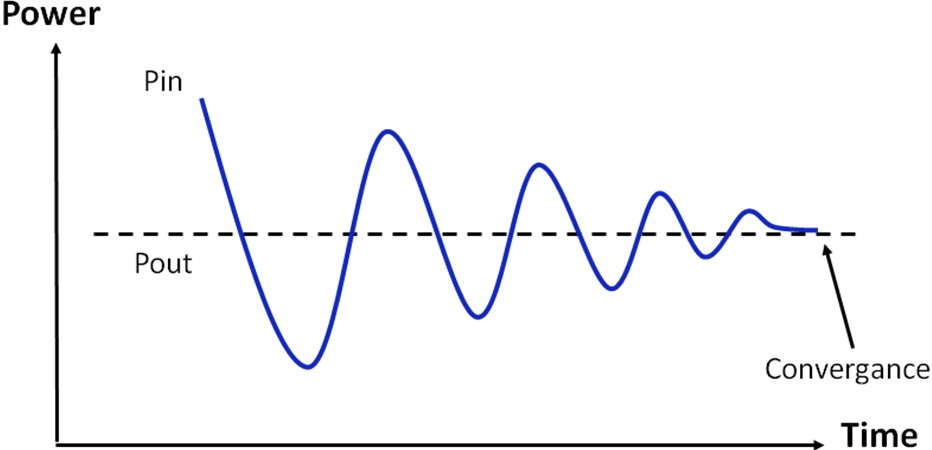 Figure 5. In PA servoing, a control loop swings the power levels back and forth until the output power level and desired power converge.
Third-order intercept (TOI) and intermodulation distortion (IM3) are two closely related specifications that are used to enumerate the linearity of an RF system. Both specifications are insightful in regards to the level of third-order distortion products relative to the power of the instrument. Third-order distortion products can interfere with the original signal and therefore lower its signal-to-noise characteristic. This in turn makes it more difficult for higher order or more complex modulation schemes to work properly in a system.

Harmonics are also important to measure because they can affect the output product of the device, which can either interfere with other RF signals or cause a compliance issue with the Federal Communications Commission or other government communications body. You can measure out harmonics as far as the seventh order for different standards. For example, you may measure the harmonics for the 1,800 MHz PCS band out to the seventh order, which is approximately 12.6 GHz.

Spurs are also commonly measured during design. These affect the signal-to-noise ratio (SNR), so design modifications are made to eliminate these in the measured spectrum.
Spectral Measurements
Adjacent channel power measures the way a particular channel and its two adjacent channels distribute power. You can perform this measurement by calculating the total power in the channel and also the total power in the surrounding upper and lower channels. Depending on the technology standard you are measuring, different criteria exist for adjacent channel power measurements. For example, the core division multiple access (CDMA) wireless standard requires transmissions to fit within a 4.096 MHz bandwidth. Moreover, adjacent channel power, measured at 5 MHz offsets, must be at least 70 dB below the in-channel average power.
Adjacent channel power leakage ratio (ACLR) is a ratio of the carrier product power to the adjacent channel products power level. This is most commonly used for wideband CDMA measurements. For other standards it is also commonly known as the adjacent channel power ratio (ACPR). The primary reason for this measurement is twofold: It measures any adjacent channel interference, which can affect other spectrum outside the carrier of interest and, more importantly, it is another method to measure third-order intermodulation products introduced by the carrier. Figure 6 illustrates this measurement for a given WCDMA signal.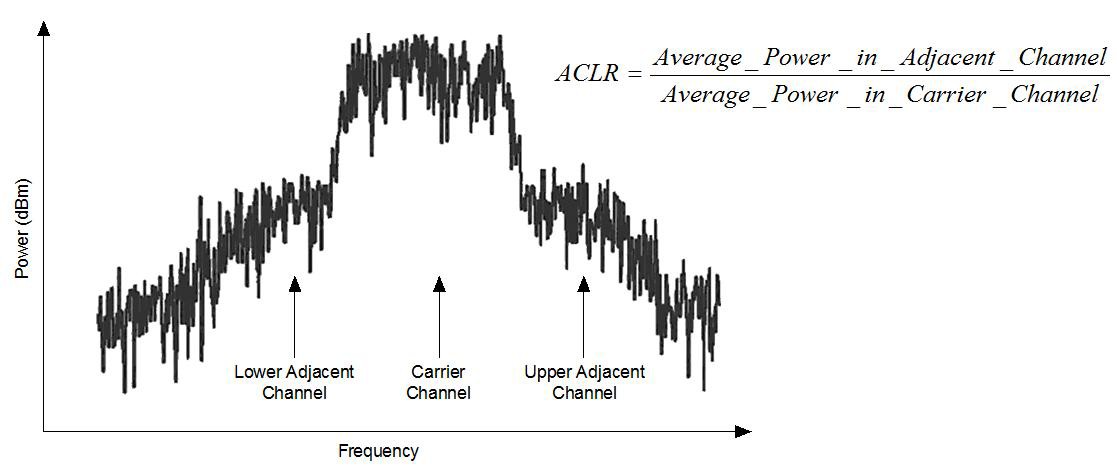 Figure 6. This WCDMA waveform illustrates ACPR or ACLR.
Output RF spectrum (ORFS) is a narrow-band measurement that provides information about the distribution of the mobile station transmitter's out-of-channel spectral energy due to modulation and switching as defined in the 3GPP specification. This measurement is commonly used for GSM, GPRS, and EGPRS where GMSK modulation (phase only) is used for transmitting and receiving data.

The ORFS measurement calculates the power at various frequencies offset from the carrier frequency to determine how much the burst leaks into other frequency bands. The power at each offset is referenced back to the carrier power and is reported in terms of dBc.

There are two types of ORFS measurements. The modulation ORFS measurement examines the frequency content of the center of a burst, while the switching ORFS measurement measures the frequency content of the ramp up and ramp down portions of a burst. In general, the switching ORFS reports higher values at a given frequency than the modulation ORFS. In the 3GPP specification, defined frequency offsets are used for modulation and switching:
Modulation: +/-200 kHz, +/-250 kHz, +/-400 kHz, +/- 600 kHz, +/-1.2 MHz, +/-1.8 MHz
Switching: +/-400 kHz, +/-600 kHz, +/-1.2 MHz, +/-1.8 MHz

Figure 7. This is the ORFS for a GSM signal.
When introducing amplitude and phase modulation such as QPSK or 16QAM, it is common to use an error vector magnitude (EVM) measurement instead.

Complementary cumulative distribution function (CCDF) is a statistical measurement method you can use to analyze the power characteristics of a signal. It demonstrates how much time a signal exists at certain power levels for a defined period of time. In a CDMA or WCDMA signal, there are infrequent higher power peaks that occur with the signal transmission. These peaks are necessary for proper data transmission although, if the peaks last too long, they can indicate compression for a PA device. This can be seen in the graph in Figure 8, which shows more peak transmission versus normal peak transmission over a given period of time.
Figure 8. Complementary Cumulative Distribution Function
Network Analysis
Voltage standing wave ratio (VSWR) is the ratio of maximum to minimum amplitude in the resulting interference wave, as shown in the following formula: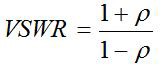 where p is the reflection coefficient defined as

A = Reflected Wave and R = Incident Wave


Figure 9. Definition of p or the Reflection Coefficient
Any impedance mismatches along a transmission line cause partial reflection of the propagating signals. The impedance difference determines the magnitude of the reflection. The length of a mismatched section determines the lowest signal frequencies that reflect from the section. VSWR is a measure of that signal reflection.
Return loss is also a reflection measurement like VSWR, but is usually expressed in dB. Using the same reflection coefficient as above, you can express it as the following:

Return loss in dB = –20 log (p)

You can measure either forward return loss, which is most common for RF front-end devices like PAs, or reverse return loss, which you can use for RF transceivers.

Modulation Accuracy Measurements

Phase and frequency error (PFER) is a common measurement for GSM, GPRS, and EGPRS signals. Since the modulated signal is entirely based in phase (GMSK) with no amplitude shifting, a measurement method is needed to determine the quality of that phase and therefore its modulation quality. Both root-mean-square (RMS) and peak phase are normally measured. The RMS phase error gives the RMS average of the phase error across an entire burst, while the peak phase error gives the worst measured phase error in the burst.
Error vector magnitude (EVM) is a measurement of demodulator performance in the presence of impairments. The error vector for a received symbol is defined in the I/Q plane as the vector between a received symbol and the ideal symbol location. To calculate the EVM, the ratio is taken between the magnitude of the error vector and the magnitude of the expected constellation point.

Modulation error ratio (MER) is a measure of the signal-to-noise ratio (SNR) in a digitally modulated signal.

DC Measurements

Current can be measured on different parts of the RF front end. It can be measured at the supply voltage to power the device. It can also be measured on the accessory channels for the digital lines, Vramp or mode and frequency control lines.
Leakage current is often performed with semiconductor devices like RF front ends. The leakage current measurement helps determine isolation between pins on a semiconductor device. By using a source measure unit (SMU), you can measure the leakage current for any given pins.

Vdetect measurement is voltage measurement of the output control line from a PA. This Vdetect outputs a control signal for the battery of the device to indicate how much power is needed for Vbatt on the PA.