Different LXI use cases affect the configuration of the network that's needed. Three typical LXI use cases result in different LAN configurations (Figure 4). Instruments may be on an isolated subnet, connected across a building or campus, or even viewable anywhere in the world on either the public Internet or a virtual private network (VPN). Each of these three scenarios adds complexity.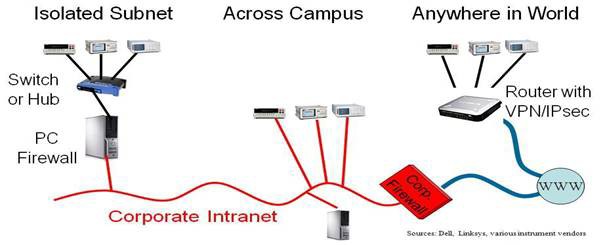 Figure 4. Network Use Cases
The isolated subnet case uses a switch or hub to connect the instruments with the PC to optionally provide a firewall between the instrument network and a corporate network. Hubs, which are less expensive and simpler to install, generate less packet jitter but can potentially increase network collisions depending on the number of instruments and traffic load. Switches, on the other hand, cost more and decrease network collisions but increase packet delays and jitter.
The across-campus case requires directly connecting to a corporate intranet and usually involves the IT department to help address security concerns such as OS updates, user access, and virus scanning. For most implementations, the instruments remain "hidden" inside a corporate firewall and are not available to remote users, but campus networks also enable multiple clients to access the same instruments at the same time. Users must implement a resource management scheme to ensure that only one client at a time can change the state of an instrument. An LXI common resource management standard is currently under development.
Remote access from anywhere in the world requires the use of a router with VPN and security features. The IT department usually installs and manages the routers. The benefits of access anywhere in the world are remote collaboration, debugging, and maintenance. The drawbacks include security, high packet jitter, router cost and maintenance, and resource management across many users.