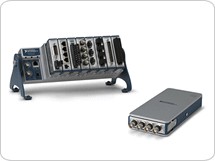 Benchtop or Field Measurements
A CompactDAQ system consists of a chassis, NI C Series I/O modules, and software. Chassis can connect to a host computer over USB, Ethernet, or 802.11 WiFi or operate stand-alone with a built-in controller. With over 50 measurement-specific modules and 1-, 4-, and 8-slot chassis, CompactDAQ provides a flexible, expandable platform to meet the needs of any electrical or sensor measurement system.
Multiple timing engines for multiple acquisition rates
Advanced counter functionality from NI-STC3 technology
Embedded Data-Logging Measurements
CompactDAQ controllers offer a high-performance platform for embedded measurements and data logging. Controllers feature an integrated computer and nonvolatile storage, so that CompactDAQ can be deployed without an external computer.
Includes Intel multicore processing, up to 32 GB nonvolatile storage, and 2 GB RAM
Simultaneously stream continuous measurements with sample rates up to 1 MS/s per channel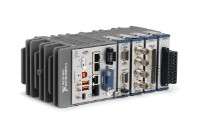 Extreme Ruggedness and Advanced Control
CompactRIO is a reconfigurable embedded control and acquisition system. The CompactRIO hardware architecture includes a reconfigurable FPGA chassis and an embedded controller. CompactRIO can be used in a variety of embedded control and monitoring applications.
A variety of reconfigurable chassis featuring an FPGA for custom timing, analysis, and control
Open embedded architecture with small size and extreme ruggedness