Thermal emf is a phenomenon in which an error voltage is induced in to a circuit due to the formation of a thermocouple between the leads of a relay and the PCB trace, which are often made of different metals. Offset compensation is a method used to measure the offset potential of the switch and calibrate it out of the measurement. Some DMMs such as the NI PXI-4070 FlexDMM have built in capability to make this measurement and account for it. Offset compensation overcomes the requirements of multiple voltage measurements, external current excitation sources, and additional calculations, yet is still able to measure the actual offset voltage and take it out of the resistance measurement.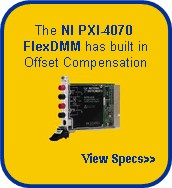 Once enabled on the DMM and without any additional user interaction, offset compensation invokes the DMM to take two resistance measurements, but with the test current source off during the second measurement. The first measurement includes the voltage drop across the relay and any thermal emfs that may be present as shown in Figure 2.

Figure 2: DMM Measuring Total Potential Drop across a Reed Relay
During the second measurement the current source is turned off so the voltage drop across the relay becomes zero volts. This second measurement measures only the thermal offset as shown in Figure 3.

Figure 3: Second Measurement Made by DMM to Determine Thermal EMF or Offset

The DMM then subtracts the second measurement from the first to determine the offset-compensated voltage (VC). This voltage is then used to determine the correct resistance value as shown in the equations below: