Each NI product built on the RIO architecture is optimized for a specific use case.  They vary by form factor, features, performance specifications, application-based software and hardware add-ons, and resource materials.  
NI ELVIS RIO Control Module – for the mechatronics lab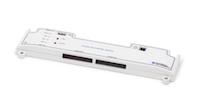 In addition to the benefits of the NI RIO architecture, the NI ELVIS provides a structural foundation for constrained mechatronics systems.  It provides built in instrumentation for visualizing any and all measurements of mechatronics concepts as well as quickly testing and troubleshooting when it's needed most.  Students can use the getting started experience, LabVIEW express VIs, and built-in software templates to quickly learn and use the technology.  
Mechatronics lab experiences can be based on complex, high fidelity add-on boards with out-of-the-box lab manuals and software by Quanser, Inc.  NI also offers modular and flexible courseware for learning mechatronics fundamentals and applying them in mechatronics projects.
Georgia Tech Success
Dr. David MacNair of Georgia Tech chose the NI ELVIS RIO Control Module because it gave him the most flexibility and control of the hardware and software abstraction levels he exposed to his mechatronics students.  He enabled students to learn about signal conditioning and circuit diagnostics in a hands on manner using the NI ELVIS instrumentation, taking advantage of high sampling rates and voltage ranges.  Once students began designing complex mechatronics systems, they used the high level abstraction that the NI ELVIS RIO Control Module offered.  Mechatronics students were able to learn and experience both low level and high level design quickly – exposing the low-level hardware and software when necessary, but then abstracting it so that students can also learn about mechatronics system design in a single semester.
NI myRIO – for student and mechatronics design projects.
After learning mechatronics fundamentals in the lab, students can apply their skills to complex mechatronics projects with myRIO, another academic product based on the NI RIO architecture.  
NI myRIO offers additional I/O and built in onboard devices like programmable LEDs, an accelerometer, and a WIFI radio.  The form-factor of myRIO is ideal for stand-alone or mobile projects since it can be simply mounted and disconnected from host devices.  NI myRIO offers the same software experience and I/O pinout as the NI ELVIS RIO Control Module, allowing for a seamless transition for students.  NI offers resources like the Project Essentials Guide and Vision Essentials Guide that enable students to quickly connect myRIO to common mechatronics interfaces, sensors and actuators.  
NI myRIO also has a full ecosystem of accessories for expanding mechatronics designs, many of which can be configured for the NI ELVIS RIO Control module which you can learn more about here: 
ETH Zurich
When capstone design students at ETH Zurich took on the audacious challenge of designing a wheelchair that can balance on two wheels and climb stairs at any angle of incline, they chose myRIO as the wheelchair control system and LabVIEW as the programming language.  The graphical nature of LabVIEW was a huge advantage for the team's mechanical engineers who had not programmed much before.  The team used myRIO to read data from the system's IMU and motor encoders, run control algorithms, and drive the motors.  The myRIO compact size, mounting abilities, and vast amount of I/O made it the perfect device for controlling their stair-climbing wheelchair, enabling the students to improve the lives of disabled people.  Read more here.