For benchtop measurements or environments where many measurements may need to be made in key points in a manufacturing or monitoring environment, you may need to choose a hardware system that is small, portable, and/or rugged.
CompactDAQ is a portable, rugged data acquisition platform that integrates connectivity and signal conditioning into modular I/O for directly interfacing to any sensor or signal. You can acquire data from over 60 measurement-specific modules over USB, Ethernet, or 802.11 wireless communication. CompactDAQ hardware offers multiple timing engines to run hardware-timed tasks at different rates and advanced counter functionality.
CompactDAQ controllers offer a high-performance platform for embedded measurements and data logging. Controllers feature an integrated computer and nonvolatile storage so that CompactDAQ can be deployed without an external computer. CompactDAQ hardware offers intel multicore processing, up to 32 GB nonvolatile storage, and 2 GB RAM, and you can perform simultaneous streaming of continuous measurements with sample rates up to 1 MS/s per channel.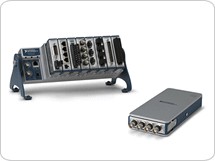 One-slot and eight-slot CompactDAQ chassis with I/O modules installed            Four-slot CompactDAQ chassis with sensor-based modules installed                                                         

Extreme Ruggedness and Advanced Control
CompactRIO is a reconfigurable embedded control and acquisition system. The CompactRIO hardware architecture includes a reconfigurable FPGA chassis and an embedded controller. You can use CompactRIO in a variety of embedded control and monitoring applications. It offers a variety of reconfigurable chassis featuring an FPGA for custom timing, analysis, and control. CompactRIO is an open embedded architecture with small size and extreme ruggedness.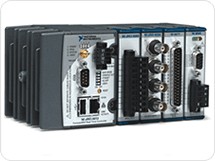 Four-slot CompactRIO chassis with sensor-based modules installed
C Series I/O Modules With Integrated Signal Conditioning for Measuring Strain
The C Series Strain/Bridge Input Module is  specifically designed for the measurement of strain gages. This module contains all the signal conditioning required to power and measure bridge-based sensors simultaneously. The NI-9235 and NI-9236 have a higher channel count and include completion for quarter-bridge sensors. The NI-9237 supports up to four full- and half-bridge sensors and can measure from quarter-bridge strain gages using a completion accessory. The NI-9237 can perform offset/null as well as shunt calibration and remote sense, making the module the best choice for low- to medium-channel-count strain and bridge measurements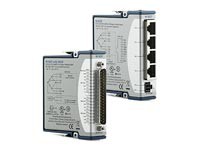 C Series strain I/O modules, which can be installed in a CompactDAQ or CompactRIO chassis
The C Series Universal Analog Input Module is designed for multipurpose measurements in automotive, off-highway, and data-logging systems. With this module, you can measure several signals from sensors such as full-bridge strain gages, accelerometers, load cells, and other powered sensors. It can measure quarter- and half-bridge sensors using a completion accessory. The channels are individually selectable, so you can perform a different measurement type on each channel.
 NI-9218 C Series Universal Analog Input Modules, one with LEMO and one with 9-pin D-SUB connectors
Using FieldDAQ Hardware with a CompactDAQ Strain/Bridge Input Module
You can also expand a CompactDAQ system with FieldDAQ hardware. FieldDAQ combines sensor-specific signal conditioning, connectivity, and digitization to directly interface to common sensors and signals such as thermocouples, strain gages, and more.
Learn more about the Strain/Bridge Input Device for FieldDAQ
Creating High-Performance and High-Channel-Count Systems for Measuring Strain and Bridge-Based Sensors
The PXI platform provides a variety of chassis, controller, and module options that give you the power to create a measurement system that meets your application's specific needs. Modules offer up to 0.02 percent accuracy at up to 102.4 kS/s. PXI scales to thousands of strain and bridge-based measurement channels for large applications and provides both wired and wireless synchronization options. It also offers the following application benefits.
Configurable desktop, rack-mount, and distributed multichassis solutions
Compatibility with a wide range of sensors and transducers
More than 1,500 PXI modules, including CAN, vision, motion, and GPS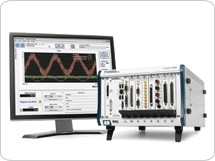 PXI system with multiple PXI modules installed
PXI I/O Modules With Integrated Signal Conditioning for Measuring Strain
The PXI Strain/Bridge Input Module features up to eight channels that support quarter-, half-, or full-bridge sensors at speeds up to 102.4 kS/s. The modules provide increased accuracy, high data throughput, and a range of synchronization features. Optional features include remote sensing, internal bridge completion, and shunt calibration options per channel. PXI Strain/Bridge Input Modules are ideal for dynamic strain, load and pressure measurements, and test cell installations requiring accuracy and flexibility.
PXI Strain/Bridge Input Module, ready to be installed in PXI chassis