Tests were performed on three different cables:
| | | |
| --- | --- | --- |
| Cable | Capacitance/ft | Total Capacitance |
| 100 ft RG-62 | 13.5 pF/ft | 1.35 nF |
| 500 ft RG-58 | 28.8 pF/ft | 14.4 nF |
| 1000 ft RG-174 | 30.5 pF/ft | 30.5 nF |
The frequency response was measured from 1 kHz to 80 kHz with three different signal amplitudes (250mV, 1V, 5V) and IEPE currents of 2mA, 4mA, 10mA, and 20mA.  The following graphs show the relationship between these variables.  The frequency values represent a passband frequency of 0.1dB of variation (frequency at which the response channel has varied by more than 0.1dB in reference to the stimulus channel).
5V peak signal amplitude:
1V peak signal amplitude: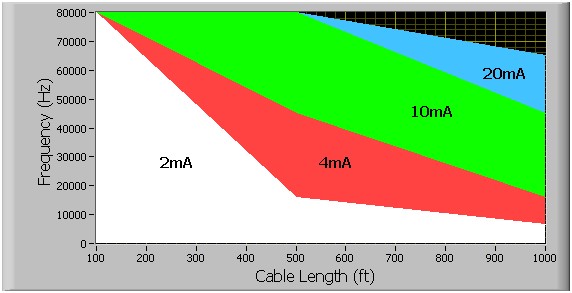 250mV peak signal amplitude: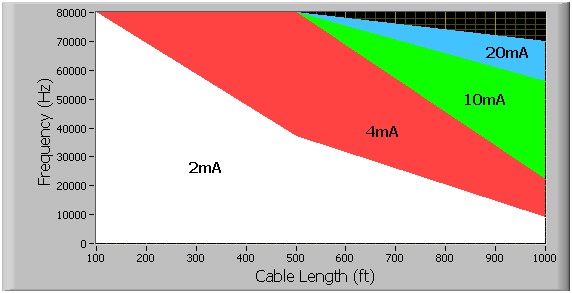 Note that the areas represented in these graphs are defined by the three cable test points.  If you are using a cable length which was not tested and your frequency of interest falls close to an IEPE current boundary, the safest approach is to use a shorter cable or use the higher IEPE current value.