NI maintains design ownership of the instrument-grade power supplies in many of its eight to 18-slot PXI and PXI Express chassis. As a result, NI can guarantee long-term availability of these power supplies and fewer design changes to its chassis due to power supply manufacturer changes. In contrast, other PXI vendors who rely solely on a standard PC power supply have little to no control over the quality of their power supplies.
The instrument-grade power supplies implemented within NI PXI chassis are optimized to meet the unique power requirements of PXI as opposed to ATX power supplies, which are designed for general use in personal computers. They are custom-designed for NI chassis to meet and exceed the PXI specification minimum power requirements. With these power supplies, NI PXI Express chassis can deliver at least 38.25 W to all modules in a filled chassis. Some chassis push this even further, such as the PXIe-1095, which can deliver 82 W of power to all modules in a filled chassis.
Table 3. NI PXI Express chassis are designed to exceed PXI specification for minimum current.
In its product documentation, NI specifies the total power available to the modules from the chassis power supply. In contrast, many other vendors list the output of the power supply. By subtracting the power consumed by the chassis components such as the fans and backplane from the total power from the power supply, the remaining power available for the controller and modules is specified. NI PXI chassis manuals clearly indicate the current on each voltage rail and the maximum power dissipation per slot.
The PXI platform specifications, as defined by the PXI Systems Alliance, require that a PXI Express chassis deliver 650 W of power on the 3.3 V and +12 V backplane rails to power the system controller and module slots. It is important when comparing PXI chassis from different vendors to do so using the "power supplied to the backplane" (or similar) specification, and not just the total power or power per slot. NI makes sure to realistically and consistently define power specifications whether it is total power, power supplied to backplane, or power per slot. Other vendors often market misleading power specifications that cannot be achieved under typical installation/operation environments.
There is an increasing demand in emerging applications for PXI-based systems for high ambient temperature (up to 55 °C) operation. PXI chassis from NI can meet this demand with minimal power derating. Power derating refers to the loss in power supplied to the chassis slots when operated at higher temperatures or other extreme environmental specifications. Many other vendors' PXI chassis meet the required PXI specification for available power at lower ambient operating temperatures (20–35 °C) but may become unstable or inoperable at higher temperatures (>40 °C).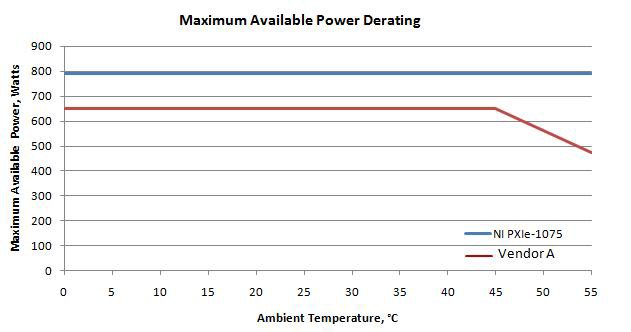 Figure 2. NI PXI delivers specified power to the backplane over full temperature range.
As NI PXI chassis implement instrument-grade power supplies, they are capable of providing the minimum power requirement over the entire specified operating temperature range (0–50/55 °C) with no power derating. To reiterate, with an NI PXI chassis you can operate a chassis filled with modules at the highest temperature specified on the data sheet (please refer to product manuals for operating temperature ranges for specific NI PXI chassis models).
The electrical noise generated by moving mechanical features within the chassis, specifically cooling fans, can degrade the measurement accuracy of PXI and PXI Express peripheral modules. To prevent this, many NI chassis not only place cooling fans in the rear of the chassis, but also implement a dedicated 12 V power supply to power the chassis cooling fans, system controller slot, and in some cases the power supply fans, to avoid coupling noise from these components into the rails powering the measurement modules.
Most NI chassis also feature remote sensing of the output voltage on the backplane power rails, to compensate for voltage drops. This design feature is important for PXI and PXI Express chassis particularly for applications with high-power modules, as it provides better regulation at the backplane when there are large load swings.

For systems where high availability is a concern, NI has designed an easy-to-replace power supply and fan shuttle for most of its 8-slot and higher chassis, in the event of a power supply failure. You could replace the shuttle from the rear by sliding out/in the failed/replacement power supply shuttle after removing the thumb screws that secure it in place. This design facilitates a mean time to repair (MTTR) of the power supply to less than five minutes. If the chassis is implemented in a rack-mount installation, as long as the back of the chassis is accessible, you can replace the power supply and fan shuttle without removing modules or reconnecting any I/O.