Can my PS license be used with Virtual Machines or PC images?
PS licenses may be used on VMs or images. However, if those VMs or images are copied, then the NI software on those copies will no longer be activated. This is because the computer ID will not be the same for any copies made. In this situation, when LabVIEW or other software is launched, the following screen will result: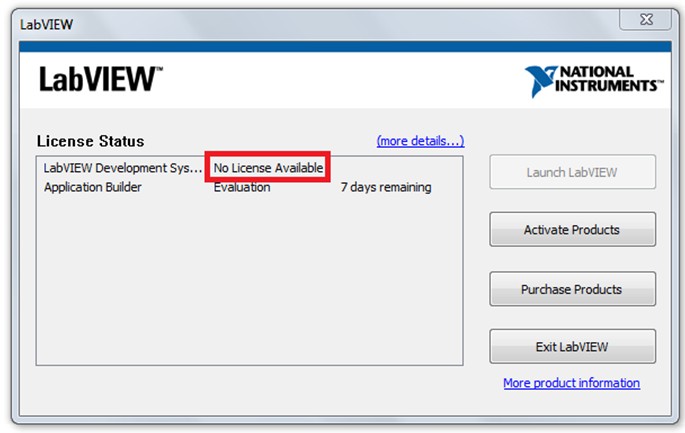 As indicated, the software will indicate "No License Available", which indicates an invalidated activation. Checking the NI License Manager utility will display information similar to below: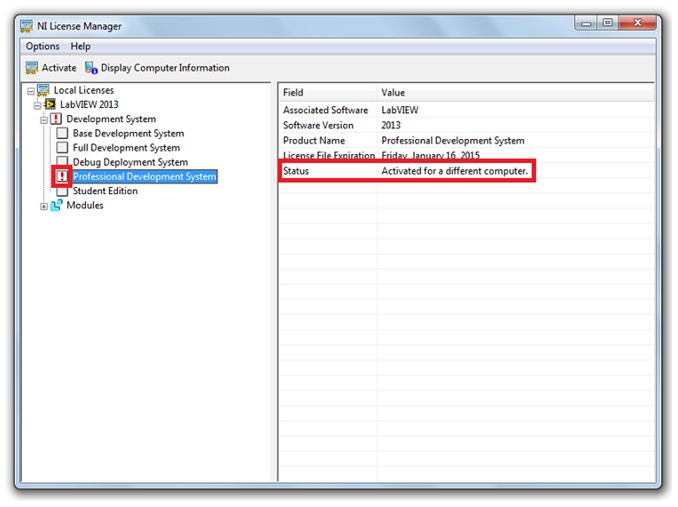 Re-active the software by right clicking the item with a red exclamation and choosing "activate". Enter your serial number when prompted.
PS changed to a lease model in July 2013. So, if a PC, Virtual Machine, or image was activated with a PS license before this time and then copied, a special case arises. The activation prior to July 2013 used a permanent time limit, while the new method expires after one year. The existing license files used by NI software will have a permanent time limit and will not be compatible with this new serial number.
In order to resolve this issue, the affected license files must be replaced with evaluation license files. The activation process should then be repeated.
To find an evaluation license file for affected software, module, or toolkit, visit the link below or search ni.com for evaluation license files. On the individual license file page, follow the installation instructions. Make a copy of the existing license file before replacing it with an evaluation license.
If the necessary evaluation license is not available, large volumes of license files must be replaced, or to ask further questions, contact NI support and reference this article.