There are cases and environments in which you may need to use a nonreentrant function or program to prevent problems with accessing functions. Many multithread-safe libraries guarantee their "safety" by locking resources - meaning when one thread calls the function, that function or even the entire library is locked so that no other thread can call it. In a parallel situation, if two different paths of your code, or threads, are attempting to call into the same library or function, the lock forces one of the threads to wait, or block the thread, until the other one completes. Also, permitting only one thread at a time to access a function saves memory space because no extra instances are needed.
However, as mentioned previously, combining parallel programming techniques with reentrancy in your functions can help drive performance in your code.
Because device drivers with LabVIEW (such as NI-DAQmx) are both multithread-safe and reentrant, your function can be called by multiple threads at the same time and still operate correctly without blocking. This is an important feature for writing parallel code and optimizing performance with multicore systems. If you are using code that does not have reentrant execution, this could be why your performance has not increased: your code has to wait until the other threads are done using each function before it can access them. To illustrate this point further, take a look at the VI Hierarchy feature in LabVIEW. To view an individual VI's hierarchy, select View >> VI Hierarchy. In the VI Hierarchy shown in Figure 1, both F1 and F2 are dependent on the same VI (in this case a very processing-intensive fast Fourier transform algorithm). It is important that this VI is reentrant if F1 and F2 are to execute in parallel.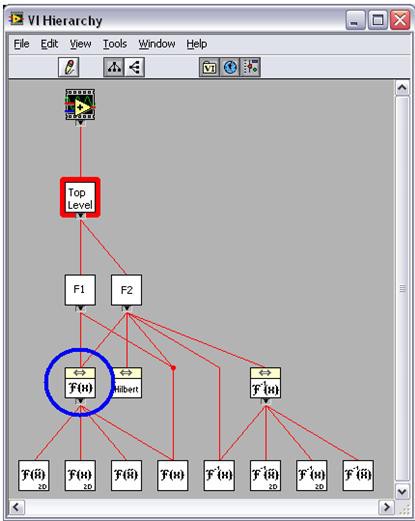 Figure 1 - VI Hierarchy View in LabVIEW
Reentrancy is an important consideration to eliminate any unnecessary dependencies in your code. Some analysis VIs in LabVIEW are nonreentrant or reentrant by default, so it is important to view the properties of those VIs to ensure they execute in parallel.