So, let's start with the basics. You can use these suggestions on any project, large or small, simple or advanced. Although Part One of this article is intended to focus on guidelines for LabVIEW front panels and user interfaces, these first set of rules are general programming philosophies or guidelines that apply to all aspects of LabVIEW, including your block diagram code.
Rule #1 -- Design first, code second.
I know you that have heard this tip numerous times before, but that's because it is such a good one. Sit down with a few sheets of paper and write what your users require the program to do. Also, draw out what you want your user interfaces or panels to look like. Most importantly, don't even think about LabVIEW during this step! In essence, you are creating a Software Requirements Document. The important thing is to know what you ultimately want to achieve.
At this point you may want to mock up the screens and run them by other people in your group before moving on. You might want to go directly to prototyping interface panels using LabVIEW controls and indicators. One of LabVIEW's strengths is in its use as a quick prototyping tool. There's nothing saying that the front panels have to work or have complete diagrams at this stage. Prototyping the front panels can help get the kinks worked out of the user interface up front and save you some coding and debugging down the road.
Next start thinking about data structures, program flow, events, states and state diagrams. This is how you expect the code to work together (i.e. if this happens, then do this next, but if this happens, then do this instead). Try to think of your application in terms of the dataflow concepts that LabVIEW is based upon. Several good articles available in past issues of the LabVIEW Technical Resource demon-strate examples of LabVIEW architectures for event-driven applications. Try looking at:
Architecture: The Big Picture of a Graphical Program by Jeff Parker in the Winter 1995 issue (LTR Volume 3, Number 1)

State Your Case! by Lynda Gruggett in the same issue.

Interactive Architectures Revisited by Gregg Fowler in Spring 1996 issue (LTR Volume 4, Number 2)
Finally, keep in mind the time scale and budget for the project. If you are doing something quick and dirty, it's acceptable to streamline this process to start coding sooner. If you are building software that will be maintained over the long term (or has any chance for that,) do more design up front. Thinking up front pays off down the road when you are enhancing for version 2, 3, and on.
At this point, we are almost ready to start writing code. Part Two of this article will cover the LabVIEW software development process in more detail with tips on designing for modularity and creating clean APIs, or calling interfaces, between VIs.
Rule # 2 -- Try code snippets before using them.
I like to make sure my code will work before writing it. To do this, I take a small section of that code and try it out in a test VI. That way, I make sure I have working code before it gets buried where it is hard to find and debug later on. For example, I have been programming LabVIEW for years, but I still can not remember whether to use Threshold 1D Array or Interpolate 1D Array. So, I code a quick test VI to find the correct one before including that code in my block diagram. Following this rule will save you debugging trouble down the road.
Rule #3 -- Plan for reuse
Of course, now that you have written this bit of working code, don't just throw it away -- save it! You might need it again on this or the next project. These also make great examples for new coworkers or anyone else who may need to take over your code in the future. I used to never save test VIs and found myself spending a lot of time recreating them. Considering the cheap cost of megabytes and gigabytes nowadays, there is just no reason not to save. Therefore, save test VIs where appropriate. Make VIs that can stand alone and be reused elsewhere. You should keep notes on what is clever and useful (such as particular control and indicator combinations to achieve special effects).
Rule #4 -- Keep it clean
No matter what else you do, try to keep your code neat and clean. Not only does this make your code easier to follow for the next person (be warned -- may be you), but neat code is usually good code. In the act of keeping things clean, you will find that you are less likely to make mistakes or forget something. I don't know how may times I have noticed wiring problems while cleaning up my diagrams. I will go into more block diagram details in Part Two of this article in the next LTR issue.
Rule #5 -- Comment, comment, comment
As LabVIEW programmers, we are all very busy (trust me, I know). But there is NO substitute for good comments in all of the code that you write. Comment all tricky code, tough algorithms, custom utilities, and so on. As mentioned in Code Complete, "Good comments don't repeat the code or explain it. They clarify its intent. Comments should explain, at a higher level of abstraction than the code, what you are trying to do." Remember that the person who looks at this code six months from now may be you! Anything added now will make that time go so much smoother.
What I recommend is that you write a brief (usually no more than one or two sentences) description of each VI in its VI Info screen. Then add descriptions for any unusual controls or indicators. If you document controls and indicators in their description boxes, the user can see those in the floating help window as he moves the mouse over the various controls. It's great if you can document them all, but in today's busy environment, there may not be time for that. If you are disciplined enough to document your controls, indicators, and VIs, then you have the added benefit that programming documentation can be automatically created using LabVIEW's Documentation Tools.
On the diagram, label all code that isn't obvious. At a minimum, try to label all structures (while loops, for loops, cases, and sequences). That way the main portions of the code are always documented. A very handy feature in LabVIEW is string and enumerated cases. These handy structures are pretty much self-documenting. In the left side of the example in Figure 1, you have to add extra comments to describe each case. With the string case shown on the right and good string names, that task takes care of itself.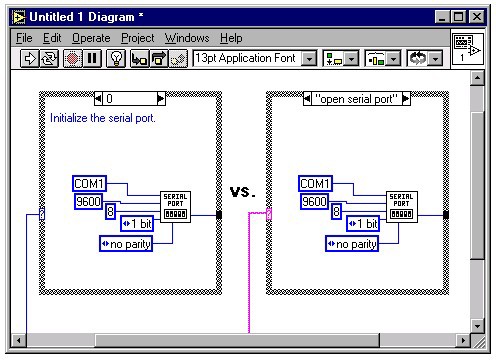 Figure 1: Use strings or enumerated types to create descriptive names for case structure frames.
Also include any references that you use. For example, say you have a piece of code that converts a dewpoint to its corresponding partial pressures of water value. If you obtained that formula from some special source, then reference that source as a free standing text block on the diagram as shown in Figure 2.
Figure 2: Use free standing text boxes to document references such as formulas or algorithms.