When National Instruments releases a new PXI embedded controller, it offers the controller shortly after major computer manufacturers such as Dell or HP release computers featuring the same high-performance embedded mobile processor. This trend illustrates the company's design expertise and commitment to providing the instrumentation industry with high-performance PXI embedded controllers that take advantage of the latest PC technologies, such as the Intel Atom, Core i7 processor, or Xeon processor. Also, because NI has been in the business of releasing PXI embedded controllers for over 15 years, the company has developed a close working relationship with key processor manufacturers such as Intel and Advanced Micro Devices (AMD). For example, NI is an associate member of the Intel Embedded Alliance, which offers access to the latest Intel product roadmaps and samples.
In addition to computing performance, I/O bandwidth plays a critical role in designing instrumentation systems. As modern test and measurement systems become more complex, there is a growing need to exchange more and more data between the instruments and the system controller. With the introduction of PCI Express and PXI Express, NI embedded controllers have met this need and now deliver up to 24 GB/s of system bandwidth to the PXI Express chassis backplane.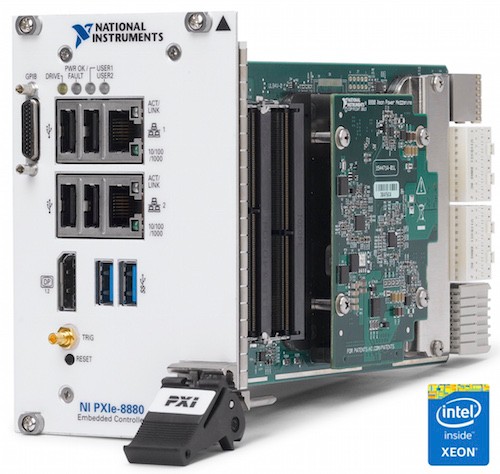 Figure 1. NI PXIe-8880 Embedded Controller, featuring the 8-core Intel XeonE5 processor, is ideal for high performance, high throughput, and computationally intensive test and measurement applications.
As the PCI Express standard evolved to PCI Express 3.0, PXI Express continued to take advantage of new features. The NI PXIe-8880 embedded controller, uses the advancements of PCI Express technology to offer one x8 and one x16 Gen 3 PCI Express links for interfacing to the PXI chassis backplane.

Figure 2. National Instruments takes advantages of the PCI specification as it continuously evolves to provide more data bandwidth.
Using the NI PXIe-8880 embedded controller with a PXI Express chassis, such as the NI PXIe-1085, provides total system data throughput from of 24 GB/s. With this high bandwidth, you can now easily implement computationally intensive applications that demand high-throughput rates such as next generation wireless communication design and prototyping, RF record and playback, noise mapping, and digital video test.