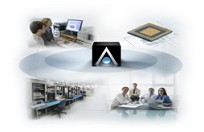 VI Technology solves company-wide test problems by providing complete solutions that combine automated test systems and enterprise software. Enterprise test relies on the latest enterprise software, such as VI Technology's award-winning Arendar. Arendar eliminates the complexities associated with enterprise test systems. Arendar achieves this simplification through the following mechanisms:
Seamlessly, reliably, and automatically storing data produced by test stations in a centralized SQL Server database
Publishing data and reports through a corporate network, making them readily accessible through standard Web browsers such as Internet Explorer and Mozilla Firefox
Providing a drag-and-drop interface through which test engineers easily design custom reports and publish them immediately
Making test system and database administration simple through an interface similar to Windows Explorer, minimizing the need for IT knowledge or support
Including interfaces to standard automated test software including National Instruments LabVIEW, LabWindows/CVI, Microsoft Visual Studio .NET, and test management software such as National Instruments TestStand.
Arendar is tightly integrated with National Instruments test executive software, providing test engineers and developers the capability to access the full power of a commercial database directly from the TestStand development and execution environments. Arendar has built-in support for storing test results directly from a custom step type in a TestStand sequence and for automatically importing data from test reports generated by TestStand.
The technology in Arendar makes enterprise reporting possible in ways that were previously only available in desktop applications. Arendar enables engineers to create report templates through a drag-and-drop interface, instantaneously publish them with the click of a button, and have anyone in the enterprise interactively generate the test reports on demand through a Web browser. Similar tools were already available for other industries, but none were designed with the needs of the test engineer and manager in mind.