3.1 Ambient Temperature
Ambient temperature can be confusing to describe, depending on one's interpretation. It is always a good idea to clarify what is meant. There are generally three types of ambient temperatures to be concerned with: (1) local ambient temperature very near the circuit board, (2) ambient temperatures inside an enclosure (away from the circuit board), and (3) ambient temperatures surrounding the enclosure. Self-heating caused by the DAQ device or other equipment in the system can impact ambient temperatures.
The image below illustrates the ambient temperatures to be concerned with when designing your system.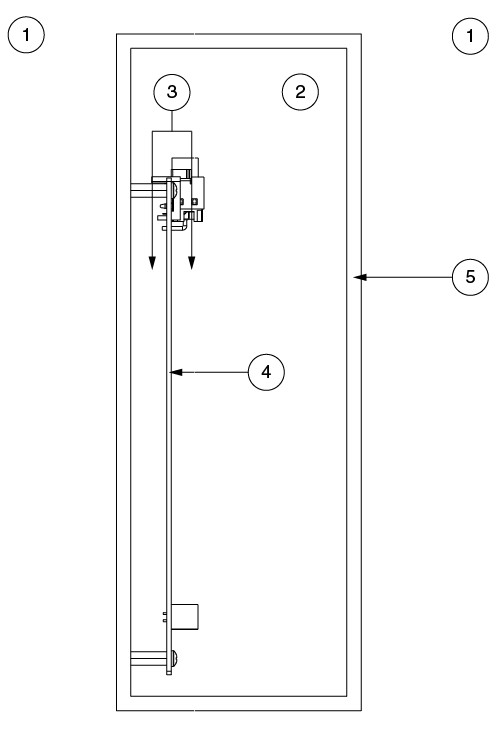 Ambient Temperature Locations
External ambient temperature—The maximum air temperature of the room or installation location that surrounds the system.
Internal/enclosure ambient temperature—The maximum air temperature inside the enclosure. This can be measured at various locations within the enclosure and is highly influenced by the proximity and heat dissipation of devices in the enclosure.
Local ambient temperature—The maximum air temperature directly adjacent to the OEM USB DAQ device. This is typically on the order of .25" (6.3 mm) off the surface of the circuit board. It should be close enough to the circuit board that the proximity of self-heating can influence the measurement without actually touching the components.
OEM USB DAQ device.
Enclosure.

3.2 Airflow
NI USB DAQ devices were originally designed for placement in small enclosures without a fan. Forced convection (oftentimes from using a fan) can help cooling, although airflow is not generally required for OEM USB DAQ products.
3.3 Physical Space Constraints
The physical space constraints of a system can impact the amount of self-heating around a circuit card or enclosure. The more restrictive the space, the more self-heating may increase the local ambient temperatures around the circuit card and inside the enclosure.
3.4 External Heat Sources (Surrounding Components or Equipment)
OEM USB DAQ devices may be mounted near heat-generating equipment or machinery. The heat generated by these external sources can directly affect the ambient temperature around the device or inside the enclosure. In addition, when installed in a suitable enclosure, these systems may also be deployed in outdoor applications where they may be exposed to the sun. The added effect from the solar radiation can significantly increase the ambient temperature inside the enclosure. Special considerations should be taken to reduce this impact, such as shading the system or choosing an enclosure that has appropriate radiation absorptivity, reflectivity, and emissivity properties.