About five years ago, Intel and AMD introduced multicore CPUs. Since then a lot of applications and development environments have been upgraded to take advantage of multiple processing elements in a system. However, because of the software investment required to re-architect applications, there are still a significant number of applications that are single threaded. Before the advent of multicore CPUs, these applications saw performance gains by executing on new CPUs that simply offered higher clock frequencies. With multicore CPUs, this trend was broken as newer CPUs offered more discrete processing cores rather than higher clock frequencies.
To provide a performance boost for lightly threaded applications and to also optimize the processor power consumption, Intel introduced a new feature called Intel Turbo Boost. Intel Turbo Boost is an innovative feature that automatically allows active processor cores to run faster than the base operating frequency when certain conditions are met.
Intel Turbo Boost is activated when the OS requests the highest processor performance state. The maximum frequency of the specific processing core on the Core i7 processor is dependent on the number of active cores, and the amount of time the processor spends in the Turbo Boost state depends on the workload and operating environment.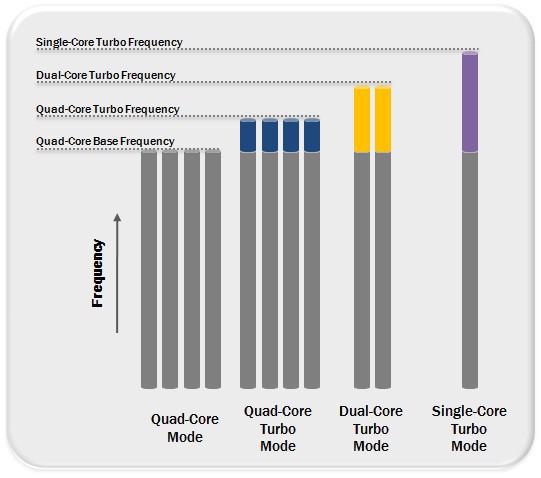 Figure 3. Intel Turbo Boost features offer processing performance gains for all applications regardless of the number of execution threads created.
Figure 3 illustrates how the operating frequencies of the processing cores in the quad-core Core i7 processor change to offer the best performance for a specific workload type. In an idle state, all four cores operate at their base clock frequency. If an application that creates four discrete execution threads is initiated, then all four processing cores start operating at the quad-core turbo frequency. If the application creates only two execution threads, then two idle cores are put in a low-power state and their power is diverted to the two active cores to allow them to run at an even higher clock frequency. Similar behavior would apply in the case where the applications generate only a single execution thread.
The Intel Core i7-820QM quad-core processor that is used in the NI PXIe-8133 embedded controller has a base clock frequency of 1.73 GHz. If the application is using only one CPU core, Turbo Boost technology automatically increases the clock frequency of the active CPU core on the Intel Core i7-820QM processor from 1.73 GHz to up to 3.06 GHz and places the other three cores in an idle state, thereby providing optimal performance for all application types.

| | | | |
| --- | --- | --- | --- |
| Number of Active Cores | Mode | Base Frequency | Maximum Turbo Boost Frequency |
| 4 | Quad-Core | 1.73 GHz | 2.0 GHz |
| 2 | Dual-Core | 1.73 GHz | 2.8 GHz |
| 1 | Single-Core | 1.73 GHz | 3.06 GHz |
Figure 4. This table showcases how Turbo Boost is able to increase the performance for a variety of applications when using the PXIe-8133 in quad-core, dual-core, or single-core mode.
The duration of time that the processor spends in a specific Turbo Boost state depends on how soon it reaches thermal, power, and current thresholds. With adequate power supply and heat dissipation solutions, a Core i7 processor can be made to operate in the Turbo Boost state for an extended duration of time. In the case of the NI PXIe-8133 embedded controller, users can manually control the number of active processor cores through the controller's BIOS to fine tune the operation of the Turbo Boost feature for optimizing performance for specific application types.
For real-time applications, Intel Turbo Boost could be utilized, but to ensure best possible execution determinism thorough testing should be done. When using the NI PXIe-8133 embedded controller, Intel Turbo Boost can be disabled through the BIOS for applications that prefer to not use it.