Achieving an ideal load response requires configurability
The fundamental issue is that the load directly affects the transfer function of the control loop regulating the output voltage or current. Thus, achieving an ideal response requires configurability for a given load.
In the past, test instrument vendors have taken different approaches to providing a configurable transfer function. They have traditionally involved switching reactive elements in and out of the control loop's feedback path, an approach that is limited in its effect, configurability, and extensibility. Truly custom compensation, to the degree afforded by SourceAdapt technology, required completely rethinking how the SMU control loop is architected.
The control loop of an SMU is a superposition of two closed control loops: one for current and one for voltage. Figure 2a shows a conceptual view of a traditional SMU architecture.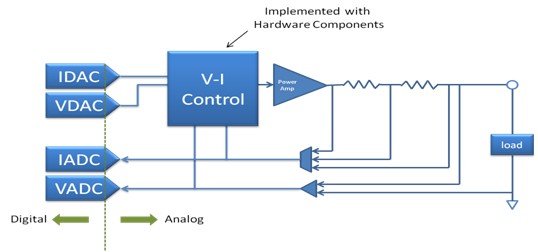 Figure 2a. Simplified View of a Traditional SMU Architecture. Note that the control loop (the V-I Control) is implemented using analog hardware components, thus providing very limited configurability.
The V-I Control is given setpoints for voltage and current, and its closed-loop feedback allows it to precisely control the output voltage and current to match those setpoints. This entire control loop is implemented using amplifiers and other active analog hardware. The feedback signals are also read by analog-to-digital converters (ADCs) to provide high-precision measurements. Varying the compensation for this architecture requires the addition of discrete reactive components. To a degree, you can make such adjustments programmatically by using switches, but this is a limiting and insufficient approach. At most, it allows you to choose one of a small number of possible configurations. This falls short of optimizing the SMU response to a given load. So, how can you achieve an arbitrarily configurable control loop? The answer to this lies in a brand new architecture as shown in Figure 2b.

Figure 2b. The New NI SMU Architecture. Note that the control loop (the V-I Control) has moved to the digital domain inside a field-programmable gate array (FPGA).
In this new architecture, the V-I Control has been moved into the digital domain, and now resides within an FPGA. A digital control loop, unlike an analog one, is completely software configurable to optimize the control loop for achieving an ideal response for the load at hand. This particularly versatile implementation of the control loop makes SourceAdapt technology possible – providing the ability to customize the SMU response to any load.
Figure 3. The New Digital V-I Control Implementation
The V-I Control contains an integrator that provides DC accuracy and the general regulation for the loop, and a pole-zero Filter, which enables custom compensation. Both of these blocks are user configurable to an extent that's simply not possible with an analog control loop. And, by leveraging fast ADCs and DACs, as well as harnessing the processing power of FPGAs, the overall loop is perfectly capable of handling precision source measure applications. The result is a very configurable architecture that does not compromise on performance.