Using the parallel nature of graphical programming and the truly parallel implementation of the LabVIEW diagram on the FPGA, you can further optimize execution speed by partitioning your application code into smaller processes. This enables each process to achieve a higher loop rate and an overall higher execution rate for the application than if the entire application was running in one loop.

For example, a typical DAQ application can be partitioned into processes for data acquisition, data processing, and data transfer to a host application. These tasks could be implemented as a sequence in a single loop, but could also be coded as three separate loops as shown below. One loop handles data acquisition and timing of the acquisition, and passes data off to processing. The second loop receives data from the first loop, processes it, and passes it off to the third loop, which handles the transfer of processed data to the host application.


Figure 1: Example of a three loop application using FPGA FIFOs to pass data between the different loops

Data transfer and synchronization between parallel loops or code segments can be handled using standard LabVIEW FPGA tools including FIFOs and occurrences. FIFOs allow you to store and buffer data in your FPGA application, so they are useful for passing data between two different parts of the block diagram or to subVIs. They can also be used to synchronize two different loops such that the receiving loop is synchronized with the sender based on the data it receives. Multiple FIFOs can be created in a FPGA VI and each FIFO can be configured with an individual data type and depth. FIFOs configured for block memory share the user memory available on the FPGA and do not use up any of the FPGA gates themselves. Using the Timeout parameter on the FIFO Read and Write nodes you can configure the individual behavior of these nodes.

If synchronization is required between two loops that do not exchange data directly, you can use occurrences. An occurrence allows you to block one loop using the Wait for Occurrence function until another loop has completed a specific operation and calls the Set Occurrence function, as is shown in the following diagram.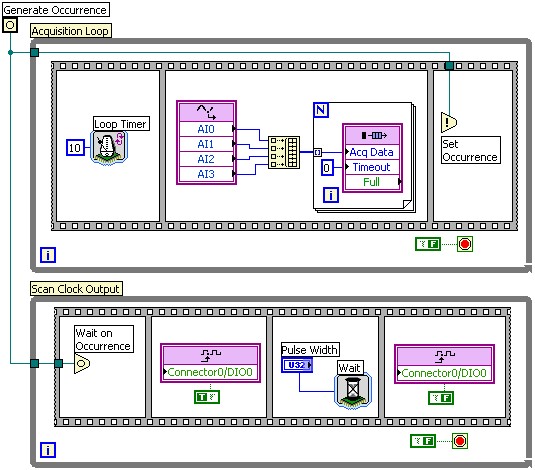 Figure 2: Example of using an occurrence to synchronize one loop to another


This technique can be applied to almost any application. By looking at the data flow within your application, you can identify different processes that can run independently of each other even if they need to be synchronized in the larger scheme of the application.

In addition to improving performance, this modular programming approach helps you to organize and manage your application code, allowing you to more easily test and debug your application and improve code reuse in future applications that have similar requirements.