To invoke simulation, you need a power source and a ground somewhere in your circuit to correctly reference voltages and currents in your circuit simulation.  
To place a Ground, go to the Sources group and highlight the POWER_SOURCES family.   
Highlight the GROUND component (as shown in Figure 4).
Click OK.
The component selection window temporarily closes and the ground symbol is "ghosted" to the mouse pointer.
Move the mouse to the appropriate place on the schematic and left-click once to place the component.
Now place two more GROUND components on the schematic.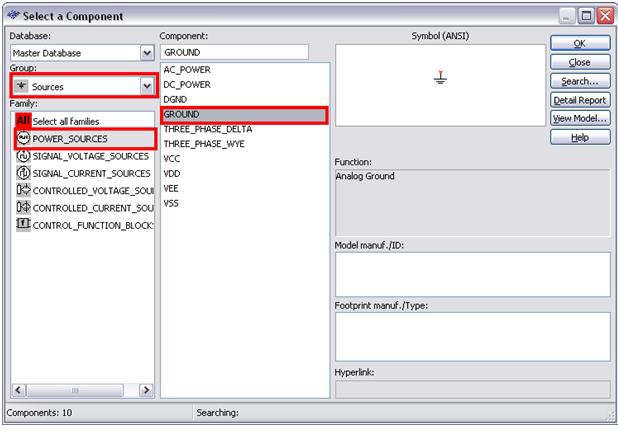 Figure 4. Placing a Ground Symbol
To place a VCC power supply:
Go to the Sources group again and highlight the POWER_SOURCES family (if not already highlighted from the previous selection).
Select the component called VCC.
Place the VCC source on the schematic.
Additional Points
Without a power and ground, your simulation cannot run.
If you need multiple components, you can repeat the placement steps as shown or place one component and use copy <Ctrl-C> and paste <Ctrl-V> to place additional components as needed.
By default, the component selection box keeps returning as a pop-up until you have completed placing your components. Close the window to return to the schematic entry window (Close button). You can change this in the global preferences dialog box.
Now place the remaining circuit components using the techniques discussed in the previous steps.
Select Place»Component.
To place the 555_VIRTUAL component, select the Mixed group and MIXED_VIRTUAL family. Highlight the 555_VIRTUAL component, click OK and place.
Select Place»Component.
Place the four-bit binary counter 7493N found by selecting the TTL group and the 74STD family. Type in 7493N in the component.
Now place the resistors and capacitor in the design.
Select the Basic group and the Resistor family.
In the Component field, type 10 k to select a 10 kΩ resistor.
You can rotate a part before placement by using the <Ctrl-R> shortcut on the keyboard when the component is ghosted to the mouse. Once rotated, place the component.
Place a 100 kΩ resistor.
Now select the Capacitor family and in the component field, type in 100 n to select a 100 nF capacitor. Place the component in your schematic.
 At this point, your schematic should look something like Figure 5: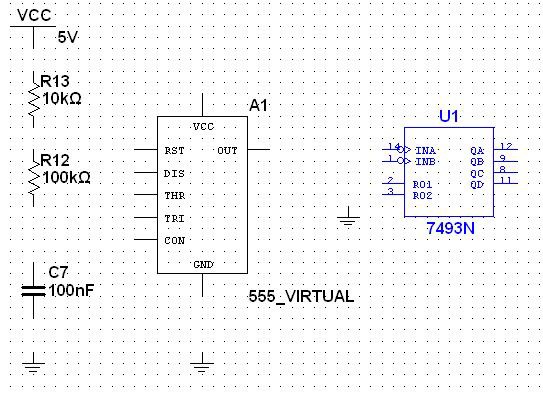 Figure 5. Components Placed