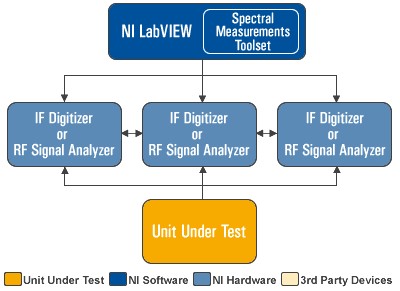 RF (radio frequency) components and systems have found their way into a vast number of today's popular electronic applications and products. When testing such RF-equipped devices, it is often necessary to acquire a number of RF signals. Most RF measurement devices such as spectrum analyzers are single-channel and acquire multiple RF signals through the use of switching. While this approach is common and sufficient in many cases, a growing number of applications require synchronized acquisition of RF signals. Such applications include wide-band signal surveillance and verification of I-Q data in communications system design.

It is very difficult to provide such capability using traditional instrumentation because of difficulties in synchronization. While it is relatively straightforward to synchronize two instruments in frequency by frequency-locking their timebases, it is much more difficult to phase-lock two instruments together such that there is a small, consistent difference in their relative phase that can later be filtered out.

In a PXI system, the PXI STAR trigger bus can be used to simultaneously trigger and start acquisition across multiple modules. The PXI STAR trigger bus is a single-line bus with equal skew to each module in the system. The acquired data is automatically timestamped in hardware and then brought into LabVIEW or LabWindows/CVI. Software tools in these environments such as the Spectral Measurements Toolkit can then be applied. In applications where the user wishes to see simultaneous data from multiple modules as one spectrum -- for example, using multiple RF analyzers to provide real-time capture of n*20 MHz of spectrum, where n = the number of RF signal analyzers -- the incoming data sets can be merged and an FFT performed on the result. In other applications, the Spectral Measurements Toolkit can take the acquired time-domain data from each module, perform a separate FFT, and then use the resulting frequency-domain data along with the original time-domain data to compute the I-Q data. This is a common application in many communications design applications where the transmitter under test uses analog I and Q channels to transmit its data.

The tools in the Spectral Measurements Toolkit and the synchronization capabilities of PXI allow for many unique measurements and are crucial in the development of phase-synchronized, simultaneous measurements across multiple RF and baseband instruments.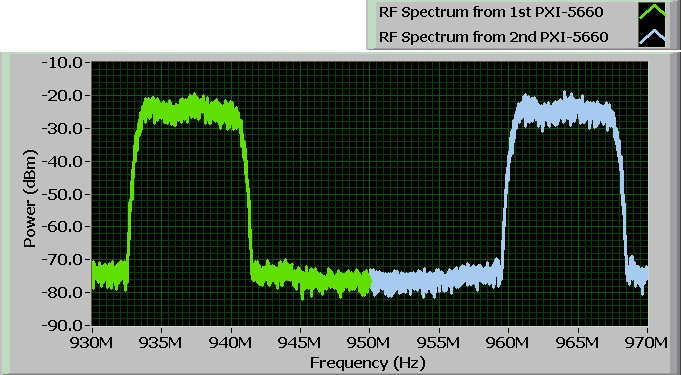 Figure 1.
Spectrum from two synchronized PXI-5660 RF Signal Analyzers with
center frequencies set to 240 MHz and 260 MHz.