A vital piece of a DAQ system is the A/D converter, which needs clock signals to designate when to acquire samples. Many systems have multiple A/D converters that share the same clock to synchronize all of the channels' measurements. CompactDAQ systems have the advantage of flexibility when it comes to timing engines and go beyond standard synchronization.
CompactDAQ chassis have three analog input timing engines. This makes it possible for programmers to divide all of their analog inputs in up to three different groups known as tasks:
Each task can run at a separate rate, as seen in Figure 4. This is ideal when combining temperature measurements, which are often slow, with higher speed measurements such as sound and vibration.
The three tasks operate independently, can be addressed from separate loops or threads in a program, and can be started simultaneously.
All channels within a single task are automatically synchronized. In the event a multiplexed module is combined in a task with a simultaneous sampling module, the first channel in the multiplexed module is synchronized and the subsequent channels in the multiplexed module scan through in succession.
All channels within a single task, simultaneous and multiplexed, are returned at the requested sample rate.
All modules can be placed in a single task. This synchronizes all channels to the same clock.
CompactDAQ can perform up to seven tasks simultaneously. You can choose from several task options:
Analog input with up to three timing engines
Digital input with designated timing engine
Digital output with designated timing engine
Analog output with designated timing engine
Counter/timer tasks for quadrature, PWM, event, period, or frequency measurement (CompactDAQ chassis contain four built-in counter/timers that you can access through a digital module)
By having a designated resource, digital and analog output tasks can run independently without having to share a clock signal from another task. This makes the programming easier and more intuitive. Designated resources can be shared with other subsystems of the chassis. For example, you can share the digital input clock with the analog output clock to generate a voltage with every rising/falling edge of the digital input.
The multiple timing engines and ability to route and share resources provide a level of flexibility to CompactDAQ unequaled by most off-the-shelf DAQ systems.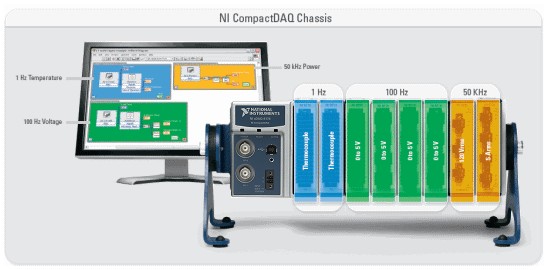 Figure 4. Different analog input tasks can run at different rates in the same chassis.
For even more flexibility when it comes to timing engines, CompactRIO with NI-DAQmx controllers offer users the ability to use a separate timing engine per slot on the controller. This allows the user to have up to 8 timing engines per controller providing the flexibility to use all 8 of those timing engines to program 8 analog input tasks using NI-DAQmx all running at an independent sampling rate simultaneously which are hardware-timed.
Click here to learn more about concurrent tasks on CompactDAQ