Using LabVIEW on a host PC with the NI WSN-3202 with the Ametek WV-20
Extracting the data from the NI WSN-3202 is fairly straightforward.  After creating a new project and adding the WSN gateway and nodes, as outlined in the Getting Started With WSN guide, it is necessary to configure the analog input channel to be used.  To do this, right click on the WSN -3202 Voltage Node and select Properties.  In the channels tab select the analog input channel that the sensor is connected to.  Select the appropriate channel range (+/- 10V range).  The sensor excitation option can be ignored because the WV-20 is self-powered.  So long as the excitation leads on the node are not connected to a load no power will be drawn from the node. 
Once the node and gateway are setup it is a simple matter of acquiring the data, scaling it and displaying it.  NI WSN uses a share variable to bring the data into LabVIEW, which can be dragged and dropped onto the block diagram from the project explorer window.  Right click on the shared variable and select Show Time Stamp.  To ensure the indicator is updated with new data only, it is important that the data's timestamp is not equal to the timestamp from the previous iteration.  To do this, compare the timestamp from the previous iteration to the current shared variable's timestamp.  If the timestamps differ we update the indicator, if they are the same we do not update the indicator.  In the Case of the WV-20 voltage outputs, the linear scales simply maps the +/- 10V to the minimum and maximum power reading s of the sensor.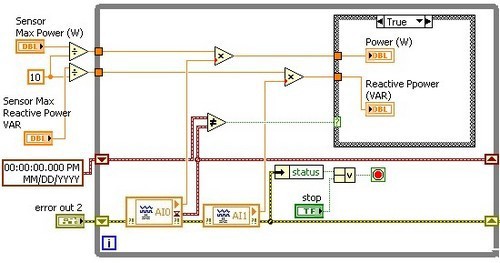 Figure 3. LabVIEW VI Block Diagram Running on Host Computer – Acquires, Scales and Displays Data.
Using LabVIEW WSN Embedded Programs on the NI WSN-3202 with the Ametek WV Sensor
With LabVIEW WSN, it is possible to download and run LabVIEW VIs on the programmable version of the WSN-3202 node for local data processing and control.  For example, it is possible to scale the data to engineering units locally on the node, perform custom triggering or alarming, or locally control the DIO lines.