The LabVIEW and NI RIO platform makes it easy for developers to connect to any sensor signal. In addition to basic digital and analog I/O, LabVIEW Robotics includes functions and examples for interfacing with signals using low-level protocols such as PWM, I2C and SPI, and high-level protocols such as NMEA and Joint Architecture for Unmanned Systems (JAUS).
Furthermore, LabVIEW Robotics includes a new set of VIs to configure, control, and retrieve data from the most commonly used sensors. The current list of sensor drivers is listed below; however, National Instruments is continuously creating new drivers and expanding this list. The FPGA based sensor drivers and examples can be found in the NI Example Finder under Robotics >> Sensor Drivers.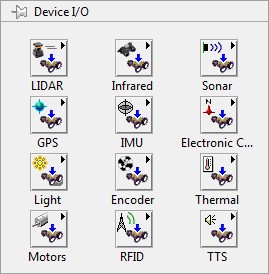 Figure 3: LabVIEW Robotics Sensing Palette
LIDAR – Hokuyo URG Series, SICK LMS 2XX Series, Velodyne HDL-64E S2
Infrared – Sharp IR GP2D12, Sharp IR GP2Y0D02YK
Sonar – Devantech SRF02 & SRF05, MaxSonar EZ1
GPS – Garmin GPS Series, NavCom SF-2050, u-blox 5 Series, Applanix POS LV
Compass – Devantech CMPS03 (PWM or I2C), PNI Field Force TCM
Inertial Measurement Unit (IMU) – Microstrain 3DM-GXx and 3DM-GXx, Crossbow NAV440, Ocean Server OS4000
Camera – Axis M1011 IP camera, analog cameras (MoviMED Analog Frame Grabber for CompactRIO), USB cameras (Windows only), NI Smart Cameras
Thermal - Devantech TPA81
Light - Vishay TEMT600
Encoder - Maxon encoder
RFID - APSX RW Series
Text to Speech (TTS) - V-Stamp

LabVIEW offers an intuitive environment for implementing and visualizing parallel processes. The figure below shows two sensors acquiring data in parallel on a real-time processor using the LabVIEW Robotics sensor drivers. 
Figure 4: Examples of interfacing with sensors using LabVIEW Robotics
If you need to perform sensor fusion of your instrument data, you can leverage the Estimation and Extended Kalman filtering functions included in the LabVIEW Control Design and Simulation module.
Looking for a specific sensor driver that is currently not included in LabVIEW Robotics? Check out our code exchange at ni.com/code/robotics, where you can download or share example programs, instrument drivers, or even photos and documents about your LabVIEW powered robot.  If you still cannot find a driver for your sensor, submit your request here.