From 8:00 AM - 6:00 PM CST on Saturday, April 29, ni.com will be undergoing system upgrades that may result in temporary service interruption. We appreciate your patience as we improve our online experience.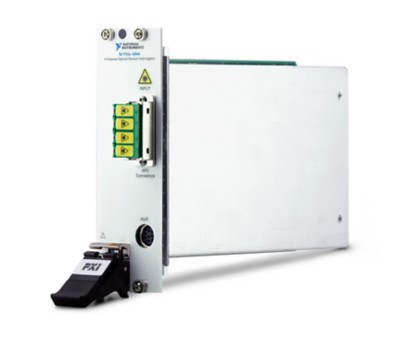 PXIe-4844
(PXI Universal Input Module)
Optical Sensor, 4-Channel PXI Universal Input Module—The PXIe‑4844 is a dual-slot data acquisition module for fiber Bragg grating (FBG) optical sensors. The PXIe‑4844 features an optical core which combines a high-power, low-noise swept wavelength laser with fiber Fabry‑Perot tunable filter technology from Micron Optics. You can extend the maximum number of FBG sensors per module by connecting one or more optical channels to an external optical multiplexer or by adding multiple PXIe‑4844 modules to the same chassis. You configure the NI PXIe‑4844 in the NI‑OSI Explorer, a configuration manager that scans the optical wavelength range to identify all connected FBG sensors. After you specify the range and scaling equations, all scans automatically parse the data into individual sensor measurements and scale the data appropriately.
Product Support Resources