From 8:00 PM - 11:59 PM CST on Friday, April 28, ni.com will be undergoing system upgrades that may result in temporary service interruption. We appreciate your patience as we improve our online experience.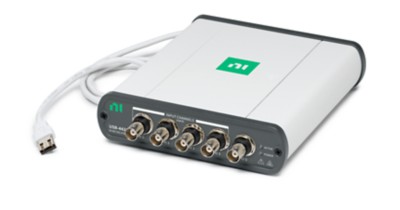 USB-4431
(Sound and Vibration Device)
102.4 kS/s, 100 dB, 0.8 Hz AC/DC Coupled, 4-Input/1-Output Sound and Vibration Device—The USB-4431 is designed for sound and vibration measurements. Input channels incorporate integrated electronic piezoelectric (IEPE) signal conditioning for accelerometers and microphones. The four USB-4431 input channels simultaneously digitize input signals. The analog output (AO) channel is ideal for stimulus-response tests and can be synchronized to the AI channels.
Product Support Resources