From 8:00 PM - 11:59 PM CST on Friday, April 28, ni.com will be undergoing system upgrades that may result in temporary service interruption. We appreciate your patience as we improve our online experience.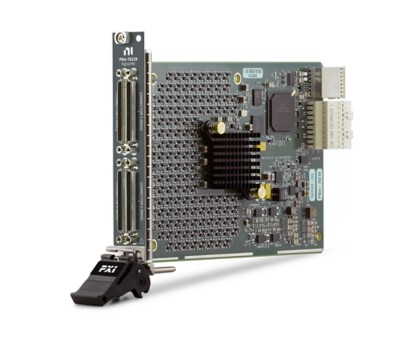 PXIe-7821
(PXI Digital Reconfigurable I/O Module)
Kintex 7 160T FPGA, 128 DIO, 512 MB DRAM, PXI Digital Reconfigurable I/O Module—The PXIe‑7821 is a reconfigurable I/O (RIO) device that features a user-programmable FPGA for onboard processing and flexible I/O operation. With LabVIEW FPGA, you can individually configure the digital lines as inputs, outputs, counter/timers, PWM, encoder inputs, or specialized communication protocols. You can also program custom onboard decision making that executes with hardware-timed speed and reliability. Each line offers software-selectable logic levels. The PXIe‑7821 supports peer‑to‑peer streaming for direct data transfer between PXI Express modules. The PXIe‑7821 is well-suited for a wide variety of applications, such as high-speed waveform generation, sensor simulation, hardware‑in-‑the‑loop (HIL) test, bit error rate test, and other applications that require precise timing and control. 
Product Support Resources