From 8:00 PM - 11:59 PM CST on Friday, April 28, ni.com will be undergoing system upgrades that may result in temporary service interruption. We appreciate your patience as we improve our online experience.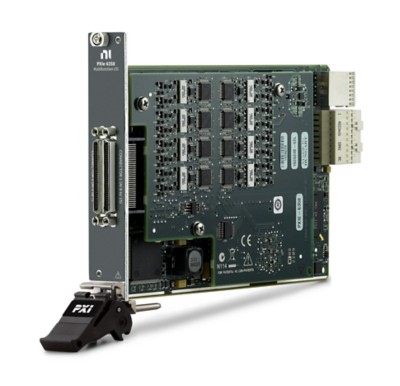 PXIe-6358
(PXI Multifunction I/O Module)
PXIe, 16 AI (16-Bit, 1.25 MS/s/ch), 4 AO, 48 DIO, PXI Multifunction I/O Module—The PXIe‑6358 is a simultaneous sampling, multifunction DAQ device. It offers analog I/O, digital I/O, four 32‑bit counters, and analog and digital triggering. Onboard NI‑STC3 timing and synchronization technology delivers advanced timing functionality, including independent analog and digital timing engines and retriggerable measurement tasks. The PXIe‑6358 is ideal for a variety of applications, such as IF digitization; transient recording; ISDN, ADSL, and POTS manufacturing test in the telecom industry; ultrasound and sonar testing; and high-energy physics. The included NI‑DAQmx driver and configuration utility simplify configuration and measurements.
Product Support Resources