From 8:00 PM - 11:59 PM CST on Friday, April 28, ni.com will be undergoing system upgrades that may result in temporary service interruption. We appreciate your patience as we improve our online experience.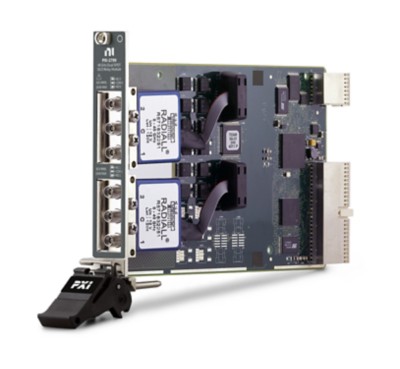 PXI-2799
(PXI RF Relay Module)
40 GHz, 50 Ω, Dual SPDT PXI RF Relay Module—The PXI‑2799 is a general-purpose single‑pole double‑throw (SPDT) switch module for routing RF or microwave signals in automated test applications. You can use this module for basic signal routing or inserting and removing components in a signal path. The PXI‑2799 is also well-suited for passing high-order harmonics from PXI RF Signal Upconverter modules or routing multiple sources to PXI RF Signal Downconverter modules. You can use its onboard relay count tracking feature to predict relay lifetime and reduce unexpected system downtime. 
Product Support Resources
Explore a wide range of support content, including examples and troubleshooting information.