From 8:00 AM - 6:00 PM CST on Saturday, April 29, ni.com will be undergoing system upgrades that may result in temporary service interruption. We appreciate your patience as we improve our online experience.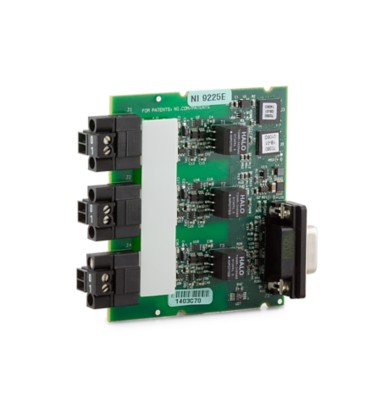 sbRIO-9225
(C Series Voltage Input Module)
Non-Enclosed, 300 Vrms, 50 kS/s/ch, 24-Bit, Simultaneous Input, 3-Channel C Series Voltage Input Module—The sbRIO‑9225 performs differential analog input. The wide measurement range is well suited for high-voltage measurement applications such as power metering, power quality monitoring, motor test, battery stack testing, and fuel cell tests. You can perform transient and harmonic analysis with high-speed simultaneous sampling. In addition, you can prevent ground loops and add safety to a system with 600 Vrms channel‑to‑channel isolation between the three sbRIO‑9225 channels. Non-enclosed modules are designed for OEM applications.
Product Support Resources
Explore a wide range of support content, including examples and troubleshooting information.