From 8:00 AM - 6:00 PM CST on Saturday, April 29, ni.com will be undergoing system upgrades that may result in temporary service interruption. We appreciate your patience as we improve our online experience.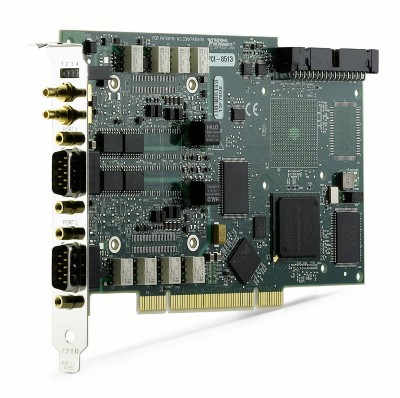 PCI-8513/2
(CAN Interface Device)
2‑Port, Software‑Selectable/FD CAN Interface Device—The PCI‑8513/2 is a controller area network (CAN) flexible data-rate (FD) interface for developing applications with the NI‑XNET driver. NI‑XNET software‑selectable CAN interfaces offer the best flexibility for CAN development with onboard transceivers for high-speed/FD, low-speed/fault-tolerant, and single-wire CAN as well as any external transceiver. The PCI‑8513/2 excels in applications requiring real‑time, high‑speed manipulation of hundreds of CAN frames and signals such as hardware‑in‑the‑loop simulation, rapid control prototyping, automation control, and more. The NI‑XNET device‑driven DMA engine enables the onboard processor to move CAN frames and signals between the interface and the user program without CPU interrupts.
Product Support Resources