From 8:00 AM - 6:00 PM CST on Saturday, April 29, ni.com will be undergoing system upgrades that may result in temporary service interruption. We appreciate your patience as we improve our online experience.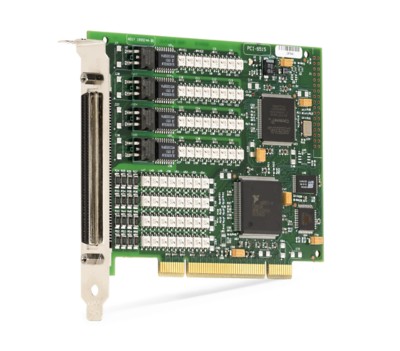 PCI-6515
(Digital I/O Device)
64-Channel, ±30 VDC, 32 Sink/Source Inputs, 32 Sink Output, Bank-Isolated Digital I/O Device—The PCI-6515 is an industrial digital I/O interface, with eight banks of isolated channels. You can wire each input bank in a source or sink configuration. With programmable power-up states, you can configure the initial output states in software, to ensure safe operation when connected to industrial actuators. If a computer or application fault occurs, the PCI-6515 can use digital I/O watchdogs to switch to a configurable safe output state to ensure detection and safe recovery from fault conditions. Programmable input filters eliminate glitches/spikes and provide debouncing for digital switches/relays through a software-selectable digital filter.
Product Support Resources