From 8:00 PM - 11:59 PM CST on Friday, April 28, ni.com will be undergoing system upgrades that may result in temporary service interruption. We appreciate your patience as we improve our online experience.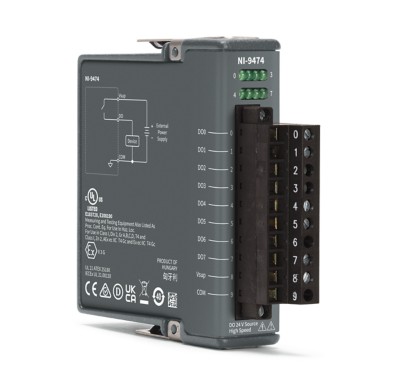 NI-9474
(C Series Digital Module)
30 V, 8-Channel (Sourcing Output), 1 µs C Series Digital Module—The NI‑9474 works with industrial logic levels and signals to directly connect to a wide array of industrial switches, transducers, and devices. Each channel is compatible with signals from 5 V to 30 V, features transient overvoltage protection between the output channels and earth ground, and has a LED that indicates the status.  The NI‑9474 is a correlated digital module, so it can perform correlated operations, triggering, and synchronization when installed in a CompactDAQ chassis. 
Product Support Resources