From 8:00 PM - 11:59 PM CST on Friday, April 28, ni.com will be undergoing system upgrades that may result in temporary service interruption. We appreciate your patience as we improve our online experience.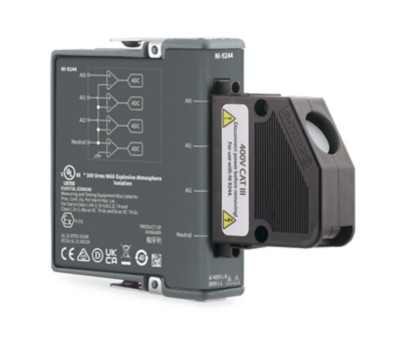 NI-9244
(C Series Voltage Input Module)
400 Vrms L-N, 800 Vrms L-L, 50 kS/s/ch, 24-Bit, 3-Channel C Series Voltage Input Module—The NI‑9244 performs single-ended analog input. The wide measurement range makes it ideal for high-voltage measurement applications such as phasor measurements, power metering, power quality monitoring, industrial machinery, and motor test. You can also perform transient and harmonic analysis with high-speed simultaneous sampling. The NI‑9244 offers three channels, so you can connect single‑ or three‑phase measurement configurations such as WYE and delta. You can incorporate the NI‑9244 into systems to meet standards such as IEC 61010‑1, C37.90 and C37.60, IEC 60255‑22‑(1:7), IEC 60255‑1, C37.188 Class M and P, EMC section of IEC 60870, EMC sections of IEC 61850, IEC 61000‑4‑30 Class S, and IEC 61000‑4‑7. 
Product Support Resources