From 8:00 AM - 6:00 PM CST on Saturday, April 29, ni.com will be undergoing system upgrades that may result in temporary service interruption. We appreciate your patience as we improve our online experience.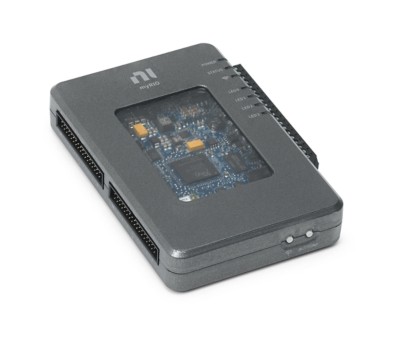 myRIO-1900
(myRIO - Student Embedded Device)
myRIO - Student Embedded Device—The myRIO‑1900 is a tool you can use to teach and implement multiple design concepts with one reconfigurable I/O (RIO) device. Featuring I/O on both sides of the device in the form of MXP and MSP connectors, it includes 10 analog inputs, six analog outputs, 40 digital I/O lines, WiFi, LEDs, a push button, an onboard accelerometer, a Xilinx FPGA, and a dual‐core ARM Cortex‑A9 processor. You can program the myRIO‑1900 with LabVIEW or C. This WiFi-enabled version allows for fast and easy integration into remote embedded applications. With its onboard devices, seamless software experience, and library of courseware and tutorials, the myRIO‑1900 provides an affordable tool that helps students and educators complete real engineering projects in one semester.
Product Support Resources