From 8:00 AM - 6:00 PM CST on Saturday, April 29, ni.com will be undergoing system upgrades that may result in temporary service interruption. We appreciate your patience as we improve our online experience.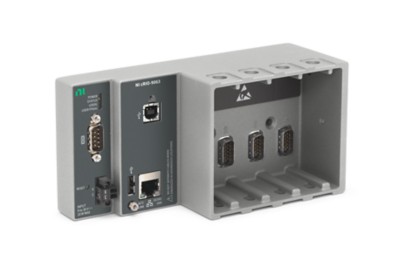 cRIO-9063
(CompactRIO Controller)
667 MHz Dual-Core CPU, 256 MB DRAM, 512 MB Storage, Zynq-7020 FPGA, 4-Slot CompactRIO Controller—The cRIO‑9063 is an embedded controller ideal for advanced control and monitoring applications. This software-designed controller features an FPGA and a real-time processor running the NI Linux Real‑Time OS, which gives you access to the Linux community. This rugged, fanless controller offers a variety of connectivity ports, including one Gigabit Ethernet, one USB host, one USB device, and one serial. The registered trademark Linux® is used pursuant to a sublicense from LMI, the exclusive licensee of Linus Torvalds, owner of the mark on a worldwide basis.
Product Support Resources