From 8:00 PM - 11:59 PM CST on Friday, April 28, ni.com will be undergoing system upgrades that may result in temporary service interruption. We appreciate your patience as we improve our online experience.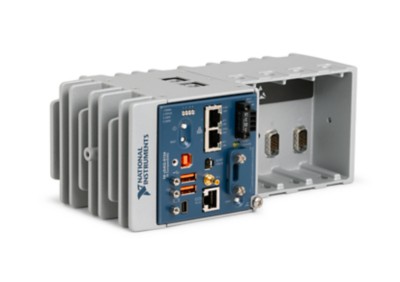 cDAQ-9134
(CompactDAQ Controller)
1.33 GHz Dual-Core Atom, 4-Slot, Extended Temperature CompactDAQ Controller —The cDAQ‑9134 controls the timing, synchronization, and data transfer between C Series I/O modules and an integrated computer. It includes Intel Atom dual-core processing and 32 GB nonvolatile storage for data-logging and embedded monitoring in extreme environments. You can choose between running Windows or NI Linux® Real‑Time. The cDAQ‑9134 offers a wide array of standard connectivity and expansion options, including SD storage, USB, Ethernet, RS232 serial, and trigger input, and an integrated NI‑XNET port. You can combine the cDAQ‑9134 with up to four C Series I/O modules for a custom analog I/O, digital I/O, counter/timer, and controller area network (CAN) measurement and logging system. The registered trademark Linux® is used pursuant to a sublicense from LMI, the exclusive licensee of Linus Torvalds, owner of the mark on a worldwide basis.
Product Support Resources